Thailand's Most Dangerous Word
A 40-year-old woman faces up to 15 years in prison for violating lèse-majesté laws by responding to a Facebook message with a single word.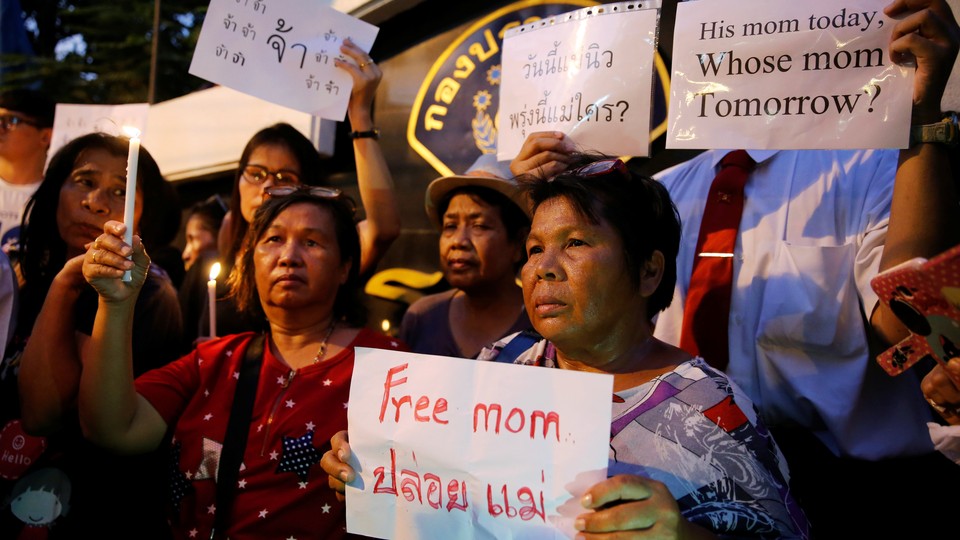 NEWS BRIEF A Thai woman faces up to 15 years in prison after she was charged Monday with violating the country's lèse-majesté laws. Her alleged crime: a private, one-word message on Facebook.
Patnaree Chankij, 40, is the mother of an activist opposed to Thailand's junta-backed government. The charge against her stems not from writing a critical message, but apparently responding to one.
As Reuters reported:
According to her lawyer, Patnaree was charged with violating Thailand's royal insult laws for writing the word "ja" - which means "yeah" in Thai - in response to a private Facebook message critical of the royals.
It's unclear what the message from Burin Intin, 28, said; he was arrested in April and is being tried on the same charge. ABC, the Australian broadcaster, notes, when "the person writing the messages asks Ms Patnaree if it is OK to talk to her about these issues, she replies with a single word: 'ja.'" Depending on the context, "ja" can be used noncommittally, but also to indicate assent.
The government charged Patnaree in a military court in Bangkok, then freed her on bail. The charges came as a surprise because after the U.S. and human-rights groups criticized Patnaree's arrest, Thai police said they would not pursue charges.
Critics of the military say the junta is trying to stifle opposition voices before next's week vote on the adoption of a new constitution that gives the military more power. Patnaree 's son, Sirawith Seritwat, is a member of the New Democracy Movement, as well as of the Resistant Citizen group, which are opposed to the military government—and have been targeted by it because of their opposition to the draft constitution.
Thailand lèse-majesté laws are among the world's strictest.