Apologizing to Taiwan's Indigenous People
President Tsai Ing-wen laid out a plan to correct past policies that, she said, resulted in four centuries of "pain and mistreatment."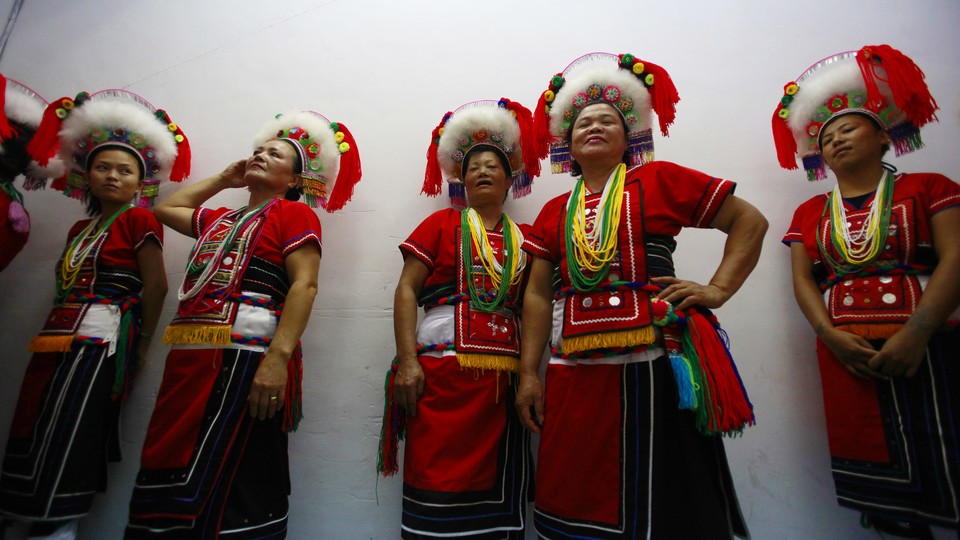 NEWS BRIEF Taiwan's president offered Monday the first official apology for the "pain and mistreatment" the island's indigenous people endured for 400 years.
Tsai Ing-wen, Taiwan's first female president, made the apology at the presidential palace to a gathering of indigenous leaders. She promised to investigate past injustices, and said she would work to solve unemployment and  educational gaps faced by the indigenous people.
The apology, she said, was long overdue:
… but it is a beginning. I do not expect any one speech or phrase of apology to wipe away four centuries of pain and suffering by the indigenous peoples. But I do hope with all my heart that today's apology will set this country and all its people on the path towards reconciliation.
Indigenous people make up about 2 percent of Taiwan's 23 million citizens. There are more than a dozen indigenous groups, some of whom are descendants of the people who first settled the island 6,000 years ago.
The indigenous population has been persecuted since the 1600s when the Dutch arrived, enslaved, and massacred them. They were followed by the Japanese and later the Chinese fleeing Mao Zedong's communist rule in mainland China. Tsai said they "took everything from the first inhabitants," beginning with their land, forcing them to become "displaced, foreign, non-mainstream, and marginalized."
After World War II, the Taiwanese government banned indigenous languages, and tried to assimilate them. Part of Tsai's plan includes passing three laws meant to give indigenous groups more autonomy, and to restore their culture.