The Lawyers Mourning Slain Colleagues in Pakistan
Schools and shops are closed in Quetta, and attorneys nationwide will boycott court procedures all week.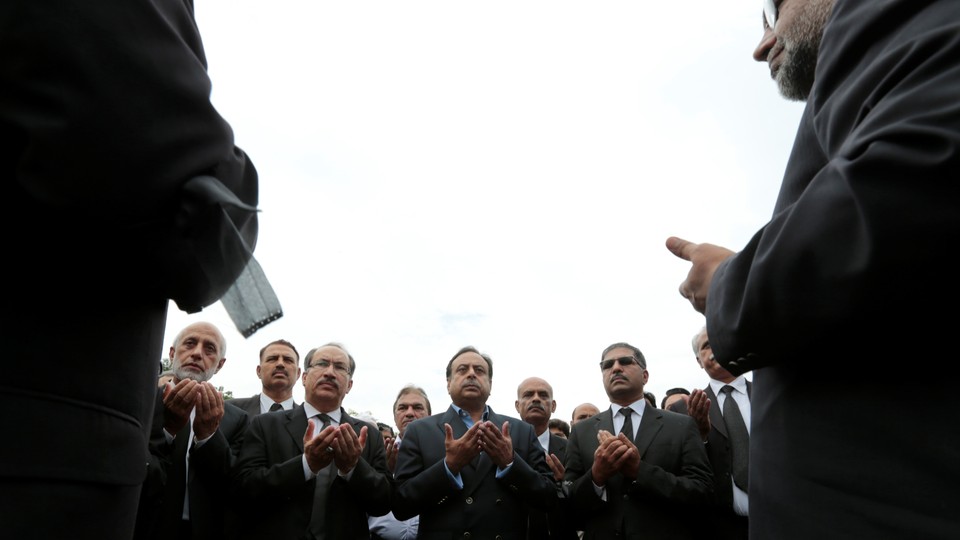 NEWS BRIEF Lawyers in Pakistan won't appear in court for the rest of the week in solidarity with attorneys killed in Monday's suicide bombing in Quetta.
In Quetta, the capital of Baluchistan province, shops and schools were closed Tuesday while the city mourned. The local, as well as the national, law association called for lawyers to boycott court hearings in protest against the attack that killed 70 people, mostly lawyers and journalists, and injured 120 more. Jamaat-ul-Ahrar, a Taliban faction, and ISIS separately claimed responsibility.
The suicide blast came shortly after the president of the Baluchistan Bar Association was shot and killed on his way to work Monday. Friends and colleagues gathered at a local hospital to mourn the man's death when a bomb exploded. As the BBC reported, the Pakistani Bar Council and the Supreme Court Bar Association (SCBA),  both said their lawyers will boycott court proceedings this week.
"We [lawyers] have been targeted because we always raise our voice for people's rights and for democracy," SCBA President Ali Zafar told reporters in Lahore.

"Lawyers will not just protest this attack, but also prepare a long-term plan of action."
As one attorney pointed out on Twitter, the loss of dozens of experienced lawyers in this region of Pakistan will have a much larger impact. Baluchistan is the country's poorest province, and has long been troubled by militant violence. The deaths not only represent generations of knowledge lost, but attorneys have often been a strong voice in support of democracy, as Zafar, the SCBA president, pointed out, which has helped combat extremist ideology.
It's not clear why either ISIS or Jamaat-ul-Ahrar would target local lawyers. Jamaat-ul-Ahrar was behind the bombing on Easter Sunday of a park in Lahore that killed 70 people, including children. However, if ISIS was behind the attack, it would be the first manifestation of their presence in the country.