Banning Hard Alcohol at Stanford
The new policy that prohibits high-proof liquor at parties comes two months after the sentencing of Brock Turner.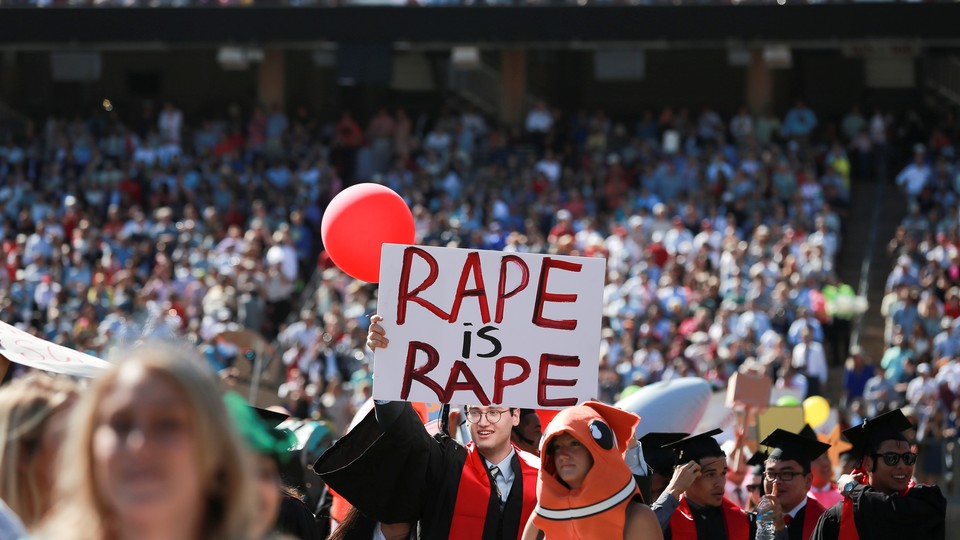 NEWS BRIEF You won't find hard alcohol at Stanford University parties anymore. At least, that's what school officials are hoping.
In an effort to reduce "the high risk of the rapid consumption of hard alcohol," the university is banning liquors that are 20 percent alcohol by volume (40 proof) from undergraduate campus parties, while also prohibiting undergraduate students from having hard-alcohol containers that are 750 milliliters or larger in student residences. Student who are of legal age can still drink beer and wine.
The new policy is a "harm reduction strategy," explained Ralph Castro, director of the Office of Alcohol Policy and Education, in a press release. He adds:
Our intention is not a total prohibition of a substance, but rather a targeted approach that limits high-risk behavior and has the backing of empirical studies on restricting the availability of and access to alcohol. It also allows us the ability to provide uniformity in a policy that will impact all undergraduate students without banning a substance that is legal for a segment of the student population to use responsibly.
By limiting the size of containers to anything less than the size of a wine bottle (capable of pouring out around 17 shots), the university is hoping to reduce alcohol consumption through availability and cost: There are fewer stores that sell hard alcohol in smaller containers, and if students find smaller containers of hard alcohol it costs more to buy those in high quantities.
The move comes two months after former Stanford student Brock Turner was sentenced to six months in prison for sexually assaulting an unconscious female student behind a garbage dumpster. Turner blamed alcohol for the incident, as both he and the victim were intoxicated when the assault occurred on January 18, 2015.
Following significant national attention to the assault, university leaders said they wanted to start a conversation around "the campus culture around alcohol." Critics accused the university of overshadowing Turner's personal role in the assault, partially blaming the victim's alcohol consumption.
Michele Dauber, a Stanford University Law professor who has become a national voice on the Turner incident, criticized the university's new policy, tweeting:
There are exceptions to the new rules. Mixed drinks using hard alcohol will be allowed, though, for parties hosted by graduate student organizations. Shots are still prohibited. Students who violate the new policy may be removed from university housing.