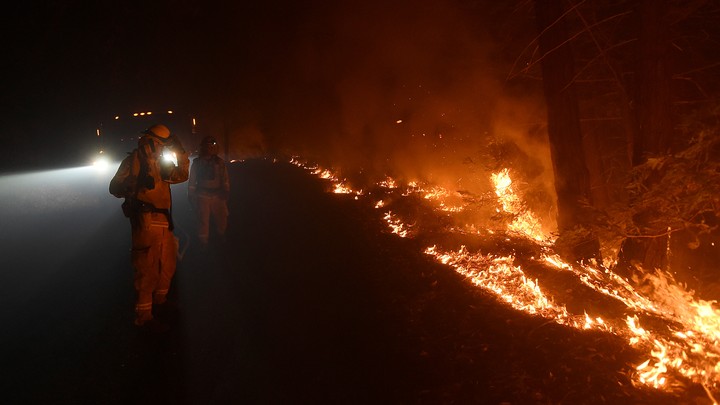 NEWS BRIEF A wildfire burning in some of California's most scenic country has raged for longer than a week, destroyed dozens of homes, killed one person, and has now scorched an area larger than San Francisco.
By Sunday, the Soberanes fire, which began July 22 near Big Sur, had grown to 40,000 acres. The fire has destroyed 70 buildings, and it killed a man while he rode in a bulldozer working to fight the fire. In all, around 5,300 firefighters are combating the flames as they turn mountaintops into fields of ash as the flames spread toward the coast.
The graphic is several days old, but here's an idea of just how quickly this fire has spread, and how vast it now is:
Time lapse of the 19,311 acre #SoberanesFire burning in Monterey Co. Fire activity above marine layer very active. pic.twitter.com/PFJu7A7n29

— CAL FIRE PIO Berlant (@CALFIRE_PIO) July 26, 2016
Just In - #SoberanesFire in Monterey Co. now 38,007 acres & 15% cont. Skies remain very smokey pic.twitter.com/p5s4zctXWw

— CAL FIRE PIO Berlant (@CALFIRE_PIO) July 31, 2016
The fire is only 18 percent contained, according to the Los Angeles Times. It has displaced at least 500 people, all of whom have had to evacuate their homes, and threatens to prompt the evacuation of 2,000 more homes.
Resorts, restaurants, hotels, and state parks in the area have had to close down during the peak tourist season. Big Sur is one of California's most popular travel destinations. Highway 1 threads itself along the mountains, between the coastline, and the many parks in the area offer mountain views and hikes. The communities in this area rely on the money they make each summer from tourism, and because of the fire, some communities have said their business is down 50 percent, which will hurt these economies.  
We want to hear what you think about this article. Submit a letter to the editor or write to letters@theatlantic.com.