Who 'The Simpsons' Are Voting For
The long-running television show envisions a 3 a.m. phone call from the Situation Room.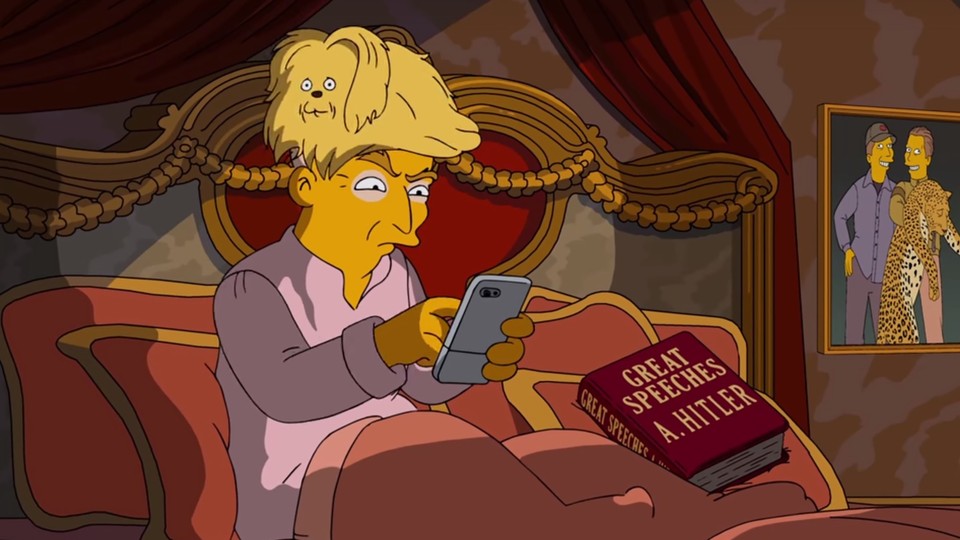 NEWS BRIEF Homer and Marge Simpson are voting for Hillary Clinton.
The Simpsons has added its take to the ocean of 2016 presidential election takes with a new two-minute clip that shows how Clinton and Donald Trump would handle a 3 a.m. phone from the Situation Room. Let's say their responses would be different.
The clip shows Clinton eagerly taking the call—and taking the phone away from her husband and former president. It also shows a bald, untanned Trump in bed— a volume of great speeches by A. Hitler beside him—ignoring the call in favor of tweeting. By the time he does respond, eight hours later, it's too late to stop the advancing Chinese fleet, the television show says.
Neither Trump nor Clinton has responded to the clip, which is an apparent reference to the "3 a.m. phone call" line Clinton used against her then-rival Barack Obama in the 2008 Democratic presidential primary to question his judgment and experience.