Syrian Civil War: A Russian Chopper Is Downed
The Kremlin said five people were killed, a reminder of Moscow's support of President Bashar al-Assad in the conflict.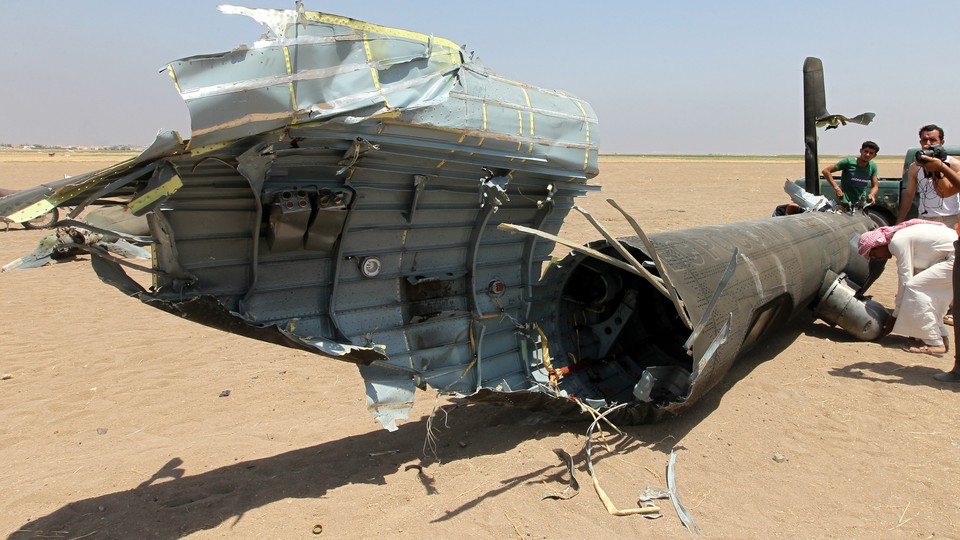 NEWS BRIEF A military helicopter that Russia says was returning from a humanitarian mission to Aleppo was shot down Monday by Syrian rebels, killing five people on board, the Kremlin's spokesman said. The deaths are a reminder of Russia's continuing support of Syrian President Bashar al-Assad against many rebel groups, ranging in affiliation from moderate to Islamist.
Dmitry Peskov, the Kremlin spokesman, said:
Those who were aboard the helicopter, according to information from the Defense Ministry, have died heroically because they were attempting to steer the machine to minimize the casualties on the ground.
It's unclear which rebel group brought down the Mi-8 transporter in Idlib province. The northern province is controlled by a coalition of rebels groups fighting Assad. The BBC has details from video footage of Monday's crash:
Pictures on social media purportedly of the latest Russian helicopter downing showed burning wreckage and bodies, with armed men milling around.

Footage showed at least one body being dragged away.
Russian casualties in Syria have been relatively few since President Vladimir Putin announced last year his country's military would support Assad. Last month ISIS shot down a helicopter being piloted by two Russian officers; both were killed. In April, a helicopter crashed near Homs; both pilots were killed. Last November, Turkey shot down a Russian fighter plane on its border with Syria. A Russian Marine sent to rescue its pilot was killed.
Assad looks firmly in charge of Syria more than five years after the civil war erupted. Backed by Russia and his Iranian, and Hezbollah allies , he has retaken vast parts of the country that were captured by rebels, including ISIS and al-Qaeda. Government troops, attempting to retake Aleppo, besieged it last month. Over the weekend, Russia and Syria opened what they called a humanitarian corridor to allow civilians and rebels to leave the strategically important city, but it's unclear if anyone took up that offer.