A New Phase in Russia's Military Role in Syria
The defense ministry says Russian fighter jets took off from Iran's Hamdan airbase and struck ISIS targets.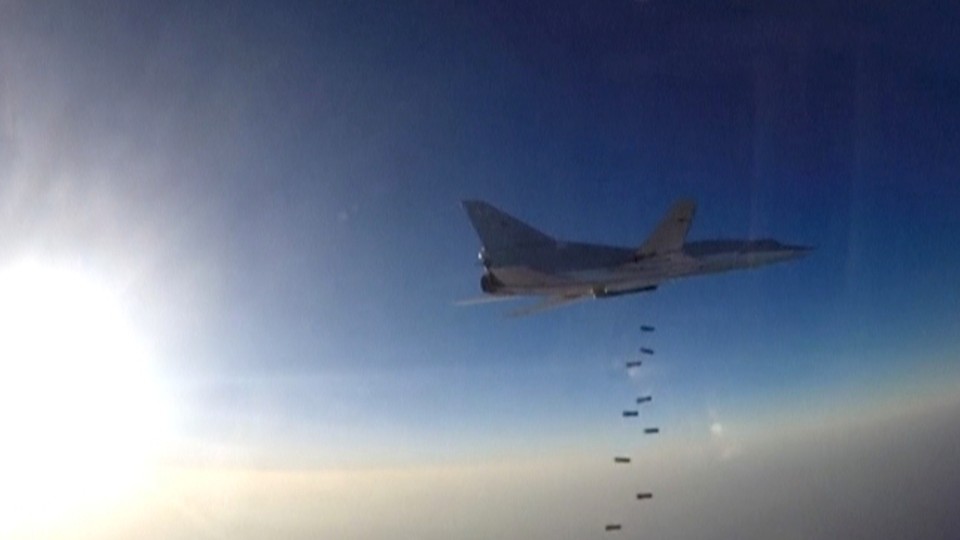 NEWS BRIEFTu-22M3 bombers and Su-34 fighters took off from Iran's Hamdan airbase to strike ISIS targets inside Syria, Russia's defense ministry said Tuesday, marking a new phase in Moscow's involvement in the Syrian civil war.
Russia Today, the state-run broadcaster, reported ISIS and al-Nusra Front targets were struck in Aleppo, Deir-ez-Zor, and Idlib provinces. The broadcaster added:
The core benefit for the Russian Air Force is a drastic reduction in flying time to terrorist targets in Syria.

Russian long-range bombers delivered airstrikes in Syria from a base in Mozdok, Russia, and had to cover a distance of about 2,000km to get to Syrian airspace. Now that distance is reduced to some 700km, so time-sensitive airstrikes can be delivered immediately and more cheaply.
Viktor Ozerov, a Russian senator who chairs the country's defense committee, told RIA Novosti, the state-run news agency, that the Iranian base would give Russia "more options" for striking ISIS and other militants.
"We know that the chances of Daesh and other terrorist organizations obtaining anti-aircraft weapons are minimal, but nevertheless, using only one military base [Hmeymim, Syria] bears some limited risks for our Aerospace Forces," he told the news agency, referring to ISIS by another name for the group.
Russia entered the Syrian civil war late last year on the side of Bashar al-Assad, the country's president who is fighting several rebel groups that range in ideology from moderate to Islamist. ISIS is one of those groups. Although Russia is in Syria ostensibly to strike ISIS and groups like it, its fighter jets have also targeted other groups, including Western-backed ones, that are fighting Assad.
Iran is a key ally of Assad and has sent fighters to take part in the civil war. Assad is also supported by militants from Hezbollah, the Lebanon-based Shiite militant group.