The Unsporting Spirit
Judoka Islam El Shahaby may face punishment for refusing to shake the hand of his Israeli opponent after a match the Egyptian lost.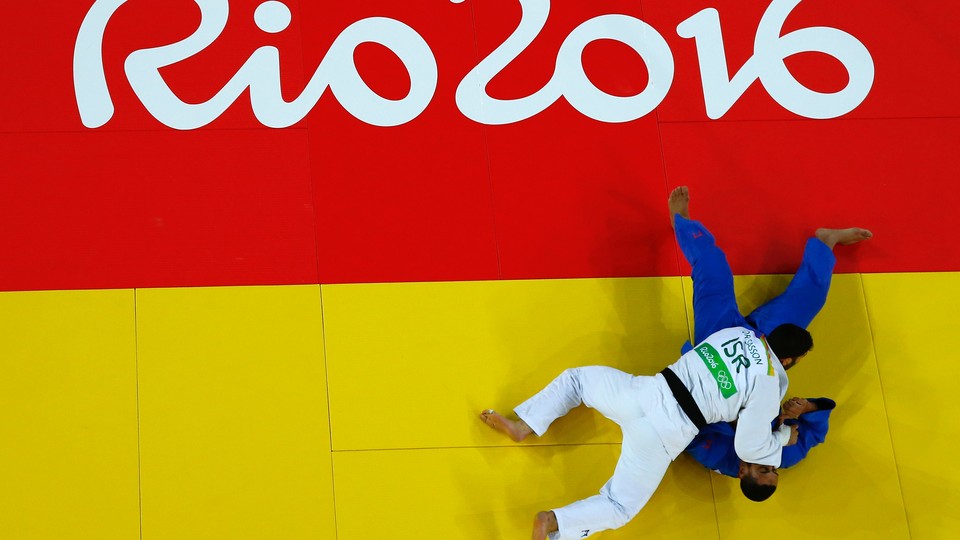 NEWS BRIEF One major theme of the Olympic mythology is the tradition of the Olympic truce. The truce can be traced back to ancient Greece of the 9th century BC, when those at war were implored to stop fighting in honor of sport. Adapted for a more modern context, Olympic athletes are now beseeched to "use sport to establish contacts between communities in conflict" and  "create a window of opportunities for dialogue and reconciliation."
But failing all those progressive aims, there's always the baseline aspiration of a truce, which translates from Greek literally as the "holding of hands." On Friday, that basic spirit was undercut at the Games in Rio when, following a judo match, Islam El Shehaby of Egypt refused to shake hands with Or Sasson, his Israeli opponent. Combining the Olympic standard with the post-match tradition of bowing in martial arts, this made for a very public rebuke:
While El Shehaby, who was loudly booed by the crowd in Rio, this was hardly the first episode highlighting contentious relations between Israel and its neighbors at the Games in Rio or in previous years. Earlier this week, a Saudi judoka was thought to have withdrawn from a match that would have eventually pit her against an Israeli opponent and a Lebanese Olympic delegate was reprimanded for blocking Israeli athletes from boarding a bus to the Games' opening ceremony.
Egypt and Israel had what most observers call a "cold peace" since the landmark Camp David Accords normalized relations between the two countries in 1979. Nevertheless, the International Judo Federation deemed Friday's match to be a sign of progress. "This is already a big improvement that Arabic countries accept to (fight) Israel," said one spokesman. He added the incident would be reviewed and that El Shehaby, who was pressured by some in his country to withdraw from the match, may face punishment.