36 Killings a Day in the Philippines
More than 1,900 people have died in the seven weeks since President Rodrigo Duterte took office and began his war on crime.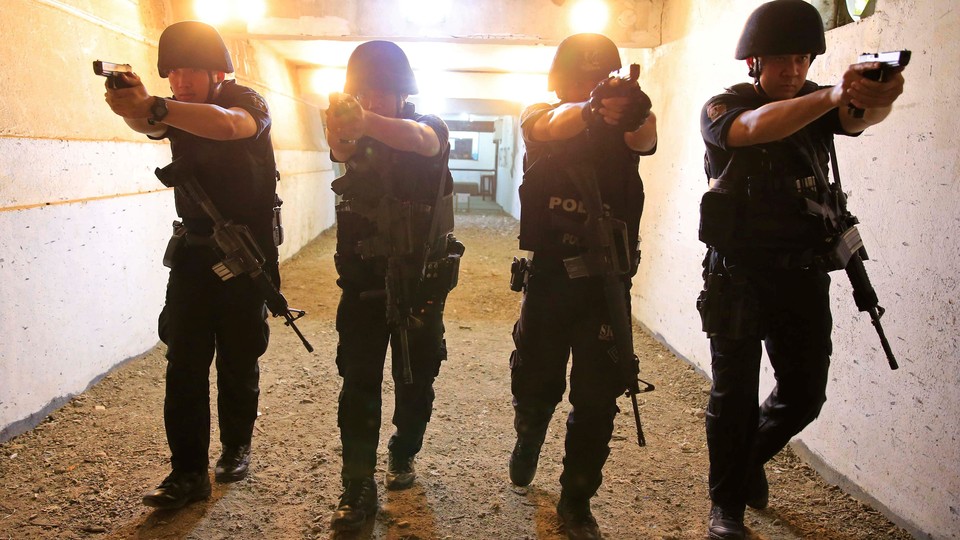 NEWS BRIEF Filipino President Rodrigo Duterte promised to begin a war on crime when he took office. Seven weeks into his presidency, more than 1,900 people have died, more than half of them in vigilante killings.
The National Police Chief, Ronald Dela Rosa, first gave the Philippine Senate inquiry a figure that was 100 deaths fewer, but by Tuesday he had revised that number to about 36 deaths per day. Of these, Dela Rosa said, police killed at least 712; the others, he said, were killed by vigilantes who often leave behind signs that warn others against becoming involved in drugs.
As the killings have risen, critics, including international human rights groups and local politicians, have become more vocal. As Reuters reported:
The inquiry is being conducted by a staunch critic of the president, Senator Leila de Lima, who has summoned top police and anti-narcotics officials to explain the "unprecedented" rise in the body count and reports of vigilante killings.

Duterte has warned legislators not to interfere with his campaign, saying they could be killed if they blocked efforts aimed at improving the country.
Over the weekend, Duterte threatened to pull his country out of the United Nations after a UN Special Rapporteur on Extrajudicial Killings said she may visit the country to look into the spike in murders. Duterte called the UN "stupid" for wanting to interfere in his country. The next day his foreign affairs secretary apologized, saying Duterte did not mean what he'd said, and that when he'd made the statement, he was "tired, disappointed, hungry."
The previous president, Benigno Aquino III, helped bring rapid economic growth to the country. Foreign investment rose in the Philippines, as did allegations of rampant political corruption, crime, and drug use. Duterte promised to clean the country up, and easily won the election. Since he took office, more than 700,000 drug addicts have turned themselves in to police out of fear they'll be killed. The national police chief said crime has fallen since Duterte's election—with the exception of homicides.