The Footage of a Police Killing in Chicago
The police department released nine videos Friday that show officers shooting at an unarmed black man during a car chase.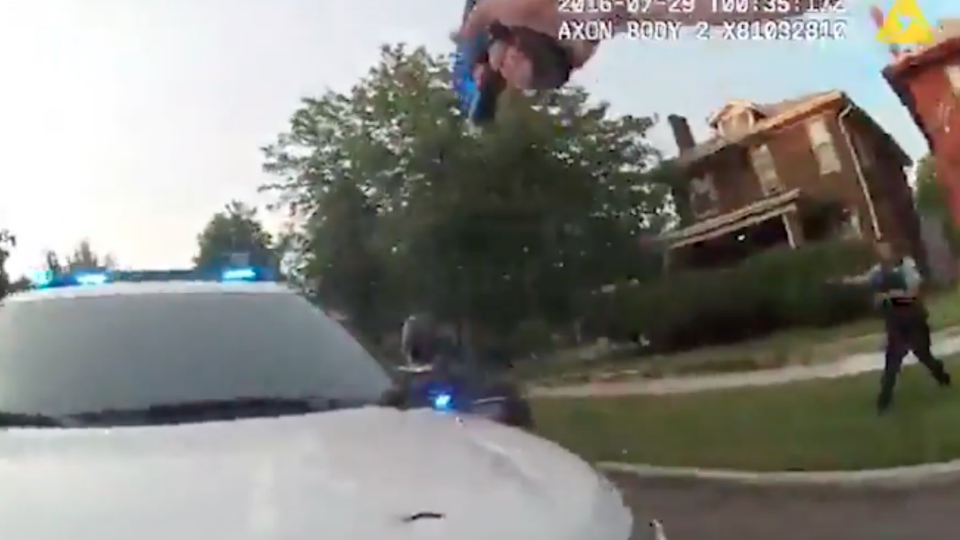 NEWS BRIEF Chicago police released several videos Friday, including footage from dash and body cameras, that show officers shooting and killing an unarmed black man driving away from police.
Hours before media published the video, Sharon Fairley, the head of Chicago's police oversight agency, called it "shocking and disturbing." The nine videos show a car chase through South Side Chicago that ended in the death of 18-year-old Paul O'Neal. The fatal shot, however, is not shown, because though the officer who killed O'Neal wore a body camera, it was not, as we previously reported, turned on during the shooting.
Police had tried to stop O'Neal, who was believed to be driving a stolen Jaguar convertible, around 7:30 p.m on July 28. He was chased until he smashed into a police car. At that point, the video shows two officers, guns drawn, jump out of their cars and shoot at O'Neal in a crossfire, something that appears to violate department policy, which prohibits shooting at a vehicle when it's the only danger.
In the videos, O'Neal's car crashes to a stop. He then runs into a home's backyard. Officers follow, climbing a gate. There is no footage of the fatal shot. When the other officers arrive, O'Neal lies on the ground, in handcuffs, bleeding from his back as officers check to see if any of them were injured. O'Neal later died.
Police Superintendent Eddie Johnson stripped three of the officers involved of their police authority, and said it appeared they had violated policy. This is a major turnaround from a department and city that fought for a year the release of a video showing police kill Laquan McDonald, 17, whom officers shot 16 times.
As the Chicago Tribune reported, this change is in large part because of a federal investigation into the department, and also polices enacted by Mayor Rahm Emanuel:
The McDonald video — and long-simmering dissatisfaction with police use of force among many African-Americans — led to sustained protests, and the U.S. Justice Department launched an investigation to determine whether police had systematically violated residents' rights. Federally enforced changes could come from that ongoing investigation, and Emanuel has announced or enacted a raft of reforms to policing and officer oversight.
The officer who killed McDonald, Jason Van Dyke, was charged with murder.
In O'Neal's death, the city's Independent Police Review Authority (IPRA) will investigate the shooting and recommend an action. As the Tribune pointed out, the IPRA hardly ever recommended stern charges for officers involved in questionable shootings. But since Fairley took over last year, the agency has ruled more shootings unjustified than in all its previous nine years combined.