Targeting a Hospital in Pakistan
A suicide attack in Quetta on Monday killed dozens of lawyers and journalists who had come to mourn the death of a prominent attorney.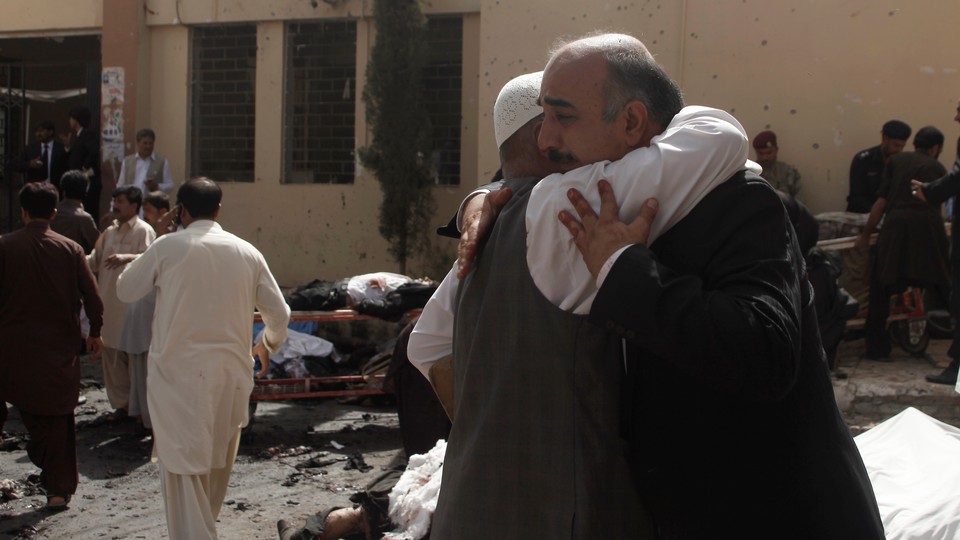 Updated on August 8 at 3:45 p.m. ET
NEWS BRIEF  A suicide bomber in Quetta, Pakistan, killed at least 50 people on Monday in an attack on a hospital that targeted those mourning a prominent lawyer who was shot and killed earlier in the day.
SITE, the terrorism-monitoring group, said ISIS claimed responsibility for the attack through its Amaq news agency. The claim cannot be independently confirmed, and earlier reports had said the Pakistani Taliban faction, Jamaat-ur-Ahrar, took responsibility. Death tolls vary, with some placing it at 53, and others at 63. The man the mourners had come to see at the Quetta Civil Hospital was attorney Bilal Kasi, who was shot Monday on his way to his work.
As Dawn, the Pakistani newspaper, reported:
Abdul Rehman, the director at the Civil Hospital, said the bombing killed 63 people, mostly lawyers. He said they were also treating 92 wounded in the explosion.

According to senior police official Zahoor Ahmed Afridi, most of the dead were lawyers. Several lawyers including the former president of Balochistan Bar Association Baz Mohammad Kakar were reported injured.
Quetta is one of Pakistan's largest cities; the southwestern Balochistan region, which shares a border with Iran and Afghanistan, has seen unrest for the past decade. Much of the violence there has been blamed on Taliban and al-Qaeda attacks on the minority Shia and Hazara communities. The region also is the scene of a separatist rebellion.
Pakistani lawyers said they will observe three days of mourning during which they will not appear in court. One local lawyer, who tweeted that his mentor was killed in the blast, raised concern that the loss of experience could also have larger ramifications on the area's legal system.
To put the magnitude of destruction into perspective, I got my law license back in 2010, joined Balochistan Bar last year in September...

— Barkhurdar Khan (@BarkhurdarAchak) August 8, 2016
Batch are now in the top 100 practicing lawyers both in terms of standing and seniority. Let that sink in for a moment. All, I repeat ALL..

— Barkhurdar Khan (@BarkhurdarAchak) August 8, 2016