Obama in Louisiana: 'I Don't Worry Too Much About Politics'
The president, facing criticism that he remained on vacation during the historic flooding, toured some of the worst-hit areas on Tuesday.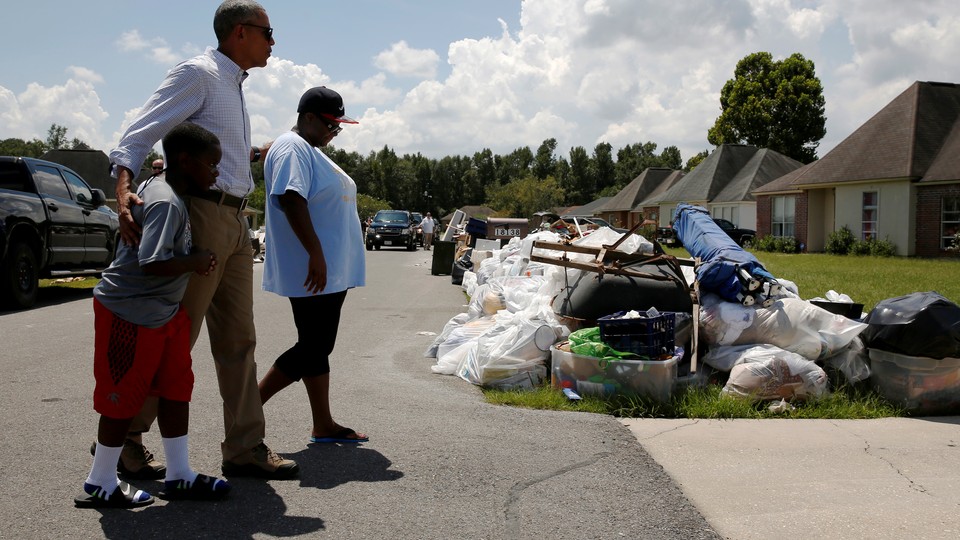 NEWS BRIEF President Obama visited Louisiana Tuesday, the site of recent historic flooding that has displaced tens of thousands of people, damaged scores more homes, and is blamed for the death of 17 people.
The president arrived in Baton Rouge, the state capital, amid criticism for not cutting short his annual vacation to travel to affected areas and see the damage firsthand; when the flooding was at its worst last week, Obama and the first family were in Martha's Vineyard in Massachusetts. They returned to Washington on Sunday. (Governor John Bel Edwards, a Democrat, had said he'd prefer Obama to wait a "week or two" to visit because of the resources that would need to be diverted for a presidential visit.)
Obama met with emergency workers and state and local officials Tuesday. He also toured affected neighborhoods and met with residents.
"I was just speaking to a young woman whose husband died shortly after the birth of her second child. She was talking about how her daughter was trying to gather all of the keepsakes that she had in her bedroom that reminded her of her father," he said in a press conference in the afternoon, the damage to residents' homes visible behind him. "That gives you some sense that this is not just about property damage. This is about people's roots."
For a week starting August 10, nearly 30 inches of rain fell in southern Louisiana. As The Washington Post pointed out, the storm produced three times as much as rain in the state as Hurricane Katrina. The scale of the flooding—which, to some observers, took too long to reach a national audience through news coverage—has drawn parallels to the devastating 2005 storm. Back then, George W. Bush faced fierce backlash for being on vacation at his Texas ranch as Katrina, predicted to cause severe damage, made landfall.
The president waved away criticism of his visit at Tuesday's conference.
"First of all, one of the benefits of being five months short of leaving here is I don't worry too much about politics," he said, referring to his exit from the White House. "The second thing I have seen historically is that when a disaster does strike, it is one of the few times when Washington tends to not get political. I guarantee you nobody on this block, none of these first responders, nobody gives a hoot whether you're Democrat or Republican."
Obama declared a disaster in the state of Louisiana on August 14, a designation that allows Federal Emergency Management Agency (FEMA) to help fund local and state disaster relief efforts. FEMA administrator Craig Fugate traveled to Louisiana last week, and Homeland Security Secretary Jeh Johnson followed two days later. Obama said Tuesday more than 100,000 people have applied for FEMA assistance so far, and that federal aid has reached $127 million. White House spokesman Josh Earnest said Tuesday residents can use federal aid to, among other things, buy groceries and pay for home repairs.
Bel Edwards has defended the federal government's response to the disaster. He said last week he spoke with the White House daily while Obama was on vacation.