North Korea's Latest Missile Launch
It landed just 125 miles from the Japanese coast, marking one of the North's longest efforts yet.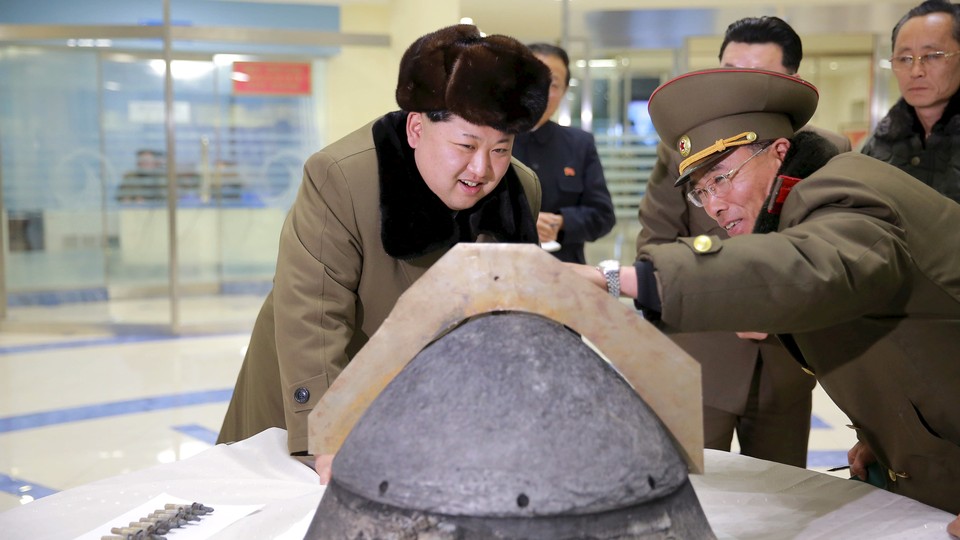 NEWS BRIEF A North Korean missile launched Wednesday morning flew more than 600 miles and sank into the Sea of Japan. The missile test, Wednesday's second as well as the latest of several this year in defiance of international sanctions, marks one of the North's longest launches yet.
The first missile fired Wednesday exploded soon after launch. The second, launched at 7:50 a.m. local time, flew closer to Japan than many previous attempts, and landed just 125 miles from the Japanese coast. Japanese Prime Minister Shinzo Abe called it an "unforgivable outrage." He then called for a meeting of his country's National Security Council. The U.S. and South Korea condemned the launch.
North Korea'a actions are in apparent response to a missile-defense system, called the Terminal High Altitude Area Defense (THAAD), the U.S. is installing in South Korea. As The Korea Times reported:
A series of provocations have followed Pyongyang's July 11 warning that it would make "merciless" retaliatory strikes against Seoul and Washington from the moment the THAAD location was selected. The allies announced July 13 that the THAAD battery will be deployed in Seongju, North Gyeongsang Province, next year to better counter the North's evolving nuclear and missile threats.
On July 19, North Korea fired three nuclear-capable ballistic missiles that flew about 300 miles into the sea. The North called these tests to simulate preemptive strikes on South Korean ports, airfields, and U.S. bases in the country.
Kim Jong Un, North Korea's leader, threatened to use a nuclear weapon against South Korea during a military exercise in March; he's also threatened to use nuclear weapons if THAAD is built. After the missile tests in July, North Korea's state media showed Kim seated before a map of the region with all of South Korea within missile range.
The two Koreas are technically in a state of war because their 1950-53 conflict ended in an armistice—not a peace treaty.