There's a Hidden Eulogy to Mussolini Buried Under an Obelisk in Rome
Scholars say a 1,200-word text written in Latin, along with gold coins depicting the fascist dictator, were placed there in the 1930s.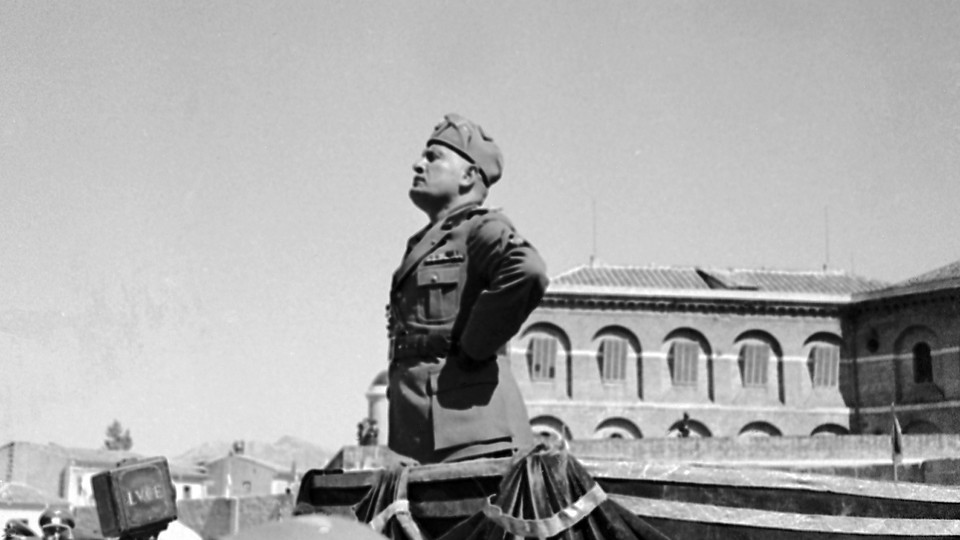 NEWS BRIEF Beneath the base of a 300-ton obelisk in Rome dedicated to the fascist rise of Benito Mussolini rests a 1,200-word eulogy, written on parchment in Latin and dedicated to the legacy of the long-departed Italian dictator.
But the text remains underground, unreachable to the classics professors who announced its existence Wednesday. The professors, who work for universities in Germany, Belgium, and the Netherlands, learned of the document through records dating back to 1932, the year the obelisk was completed. The records, which are stored in libraries and archives in Rome, explained that Mussolini's regime buried the text underneath the monument in hopes that it would be discovered by archaeologists in the distance future. The obelisk was constructed at a time when archaeologists were discovering ruins and treasures from their ancient Roman past. Mussolini's supporters wanted the text to be uncovered in a similar age of discovery, many years into the future, according to the professors.
The eulogy is written in three parts. Here's the description from the BBC:
The first is a general history of the achievements of fascism and the rise of Mussolini. It describes Italy as on the brink of disaster following World War One only to be rescued by Mussolini, "regenerating the country through his superhuman insight and resoluteness," said Dr. Lamers, who works at Humboldt University Berlin and Catholic University of Leuven.

"The text presents Mussolini as a kind of new Roman emperor, but also, by using biblical language, as the savior of the Italian people."

The second section concerns the Fascist Youth Organisation (the obelisk was being constructed at its headquarters) and youth programs.

The third part deals with the construction of the Foro Italico—then known as the Foro Mussolini—and the erection of the obelisk.
Records show the parchment is buried alongside gold coins and a medal that depicts Mussolini as some sort of lion figure. Mussolini served as Il Duce from 1922 until 1943. Two years later, he was killed by Italian communists and hung upside-down for public viewing.
When the obelisk eventually topples, like so many Roman equivalents, archaeologists will excavate the text and tokens for display.