The Aftermath of the Milwaukee Protests
Protests on Sunday turned violent as demonstrators gathered to rally against the killing of a black man.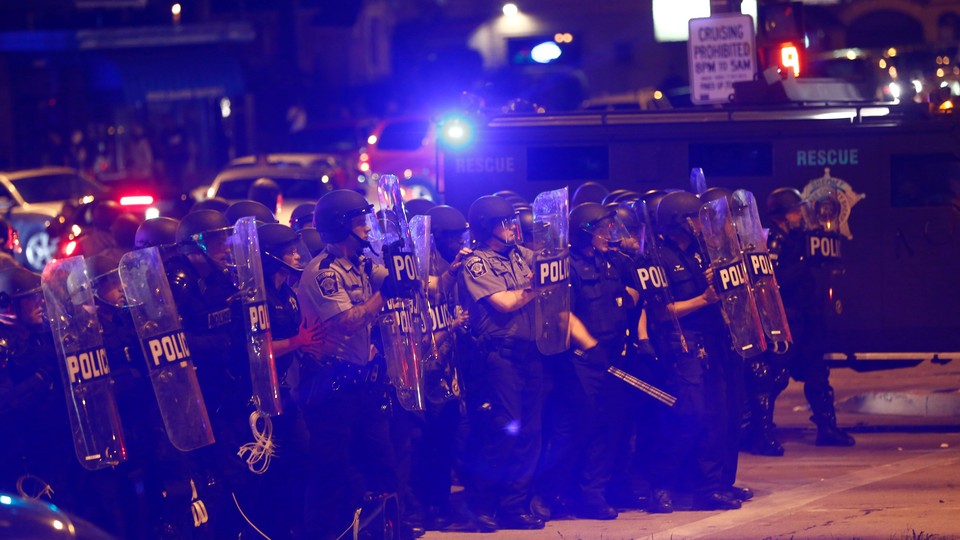 NEWS BRIEF Protesters in Milwaukee's Sherman Park neighborhood clashed Sunday with police for the second night in a row, setting buildings on fire, throwing rocks at officers, and firing shots at police.
The protests began Saturday, a few hours after officers shot and killed Sylville Smith, a 23-year-old black man, who was armed and running from police. The protests turned violent, and several business and cars were set ablaze. Police arrested 17 people who were charged with crimes ranging from disorderly conduct to burglary. Police wore full riot gear, and four officers were injured during the protests, most from rocks being thrown. Wisconsin Governor Scott Walker declared a state of emergency Sunday, and activated the state's National Guard, though police said they did not need the extra help to suppress the 100 or so protesters who remained into early Monday morning.
At a news conference Sunday, Milwaukee Police Chief Edward Flynn did not identify the officer who shot Smith, except that he was a 24, had been on the force for several years, and was black. Flynn said he'd watched body-camera footage of the shooting, which happened about 3:30 p.m. on Saturday. That day police had stopped Smith and another man in a car for reasons not known.
Of the moments leading up to the shooting, the Milwaukee Journal Sentinel quoted Flynn saying:
"I mean, there was virtually no time between the officer unhooking his seat belt, turning on his body camera, getting out of the car and immediately he was in a foot chase. That foot chase went maybe a few dozen feet before he encountered this individual in a fenced yard," Flynn said.

"The individual was armed. The individual did turn toward the officer with the firearm in his hand. You can't tell when the officer discharges his firearm."
Some protesters said they believed Smith had been shot in the back while he ran from police. Flynn said this was not true. But what clearly emerged from reports of the protests was that residents of Sherman Park, a mostly black community, expressed anger over what they saw as years of oppressive policing. This is the same complaint made by Black Lives Matter organizers all over the country, in the neighborhoods surrounding the many varied deaths of black men who've made headlines, armed or unarmed.
Just last week, the Department of Justice released a report on the Baltimore Police Department, which suggested officers targeted and abused black neighborhoods. There were similar findings made in Ferguson, Missouri, after the shooting of Michael Brown.
In Milwaukee, Flynn said there would be an independent investigation into the shooting, in line with state law.