The Maiden Voyage of the World's Longest Aircraft
The plane cruises at 90 miles per hour, can carry 22,000 pounds, and stay suspended for weeks.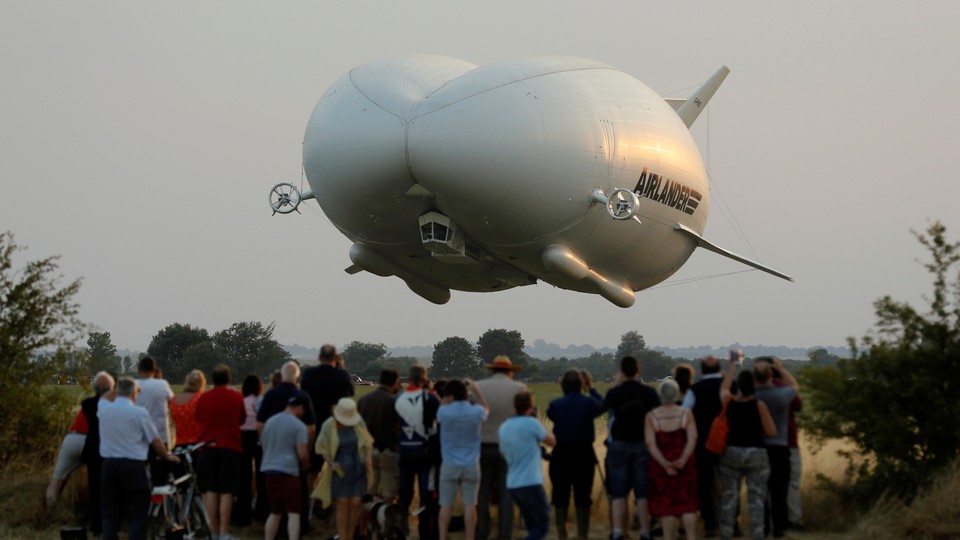 NEWS BRIEF The world's longest aircraft—larger than a Boeing 747 and as long as eight double-decker British buses—took flight late Wednesday night.
The aircraft is called the Airlander 10, and it's part plane, part helicopter, and part dirigible, aka blimp. It measures 302 feet long and cruises at a comfortable 90 miles per hour, or almost one-seventh the speed of a regular passenger plane.
The hodgepodge aircraft, built by the British company Hybrid Air Vehicles, took flight for 30 minutes in a rural airfield in Bedfordshire, England. Here it is in action:
The plane has been compared to a giant football, and, most notably, to a "flying bum." Two helium-filled hulls help lift the plane, and the craft can carry more than 22,000 pounds of cargo and stay suspended for weeks. It was originally funded by the U.S. military to fly spy and delivery missions above battlefields in Afghanistan. And at under $40 million to build, the Airlander 10 costs one-tenth the price of the superjumbo Airbus A380. It is that price point, combined with the fact that it burns just a fifth of the fuel as commercial aircraft, that its manufacturer hopes will attract buyers. So far, however, it has attracted mostly relentless mocking for its resemblance to a derriere.
The U.S. military initially invested $300 million in the project, but pulled out in 2013. Hybrid Air Vehicles had been paid $100 million by the U.S. to develop the plane, and bought it back for a steal at $300,000. To finish the design, the company crowdsourced funding. One of its more famous investors is Bruce Dickinson, the lead singer for the metal band Iron Maiden. Dickinson rationalized his investment this way: "I'm not expecting to get my money back any time soon, I just want to be part of it. Being a rock person, I could put it up my nose, or buy a million Rolls Royces and drive them into swimming pools, or I could do something useful."
Dickinson said he decided to invest after he met the man behind its design, the late inventor Roger Munk, who is believed to have been inspired to build the Airlander 10 by another famous inventor, Barnes Wallis, who drew it on the back of a napkin as the two sat in a pub.
Hybrid Air Vehicles hopes to build 100 more of the airships within five years to serve as tourist cruises, cargo transport, and floating wireless-internet hotspots. The Airlander 10 may very well signal a new dawn for the dirigible, which has never quite recovered from that disaster in 1937.