The London Stabbing Suspect's Motive
Police said it looks increasingly like the Norwegian national of Somali origin suffered from mental health issues. The woman who was killed was identified as American.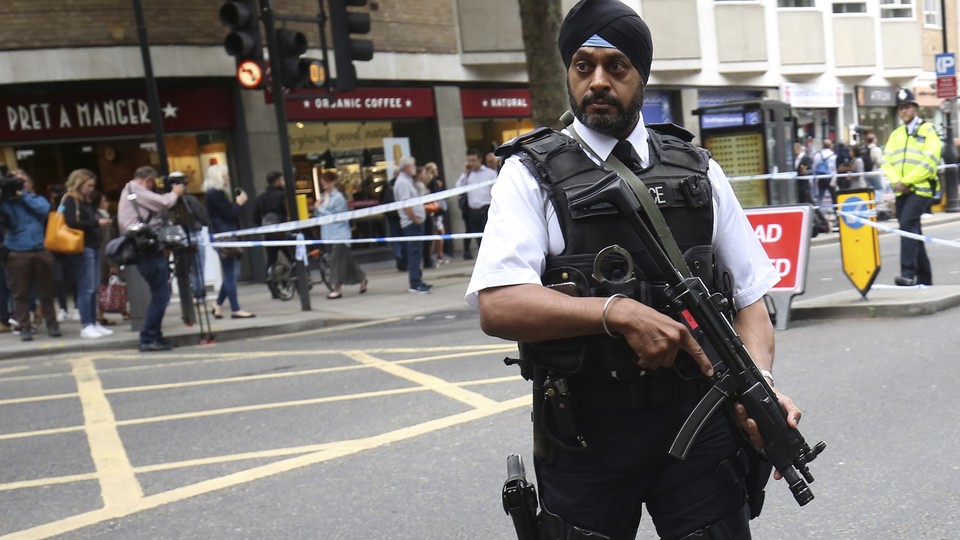 Updated at 4:09 p.m. ET
The attack Wednesday at Russell Square that killed one person and injured five others was likely "triggered by mental health issues," a senior London police official said.
"Whilst the investigation is not yet complete—all of the work that we have done so far, increasingly points to this tragic incident as having been triggered by mental health issues," Mark Rowley, the assistant commissioner of Metropolitan Police, said at a news conference.
He said the attacker, who is in custody, was identified as a Norwegian national of Somali origin. The attack itself, he said, was spontaneous and the victims picked at random.
"This morning we have searched an address in north London and will search another in south London," Rowley said. "So far we have found no evidence of radicalization or anything that would suggest the man in our custody was motivated by terrorism."
The woman killed in the attack was identified as Darlene Horton, 64. News report said Horton was married to Richard Wagner, a professor of psychology at Florida State University. Horton was traveling with Wagner, who was teaching at the university's study-abroad program. The couple were due to return to Florida Thursday. Metropolitan Police identified those injured as nationals of Australia, Israel, the U.K., and the U.S.
Police responded to calls of a man attacking people with a knife at about 10:33 p.m., he said. Six minutes later, armed officers Tasered and detained the suspect.
Rowley added police have increased the number of officers on the streets following the incident. Earlier Wednesday, the Metropolitan Police said 600 armed officers will be added to its forces in response to recent terrorist attacks in Europe.