The Rise of Gun-Carrying Cops in London
The city will add 600 armed police officers to its forces in response to recent terrorist attacks in Europe.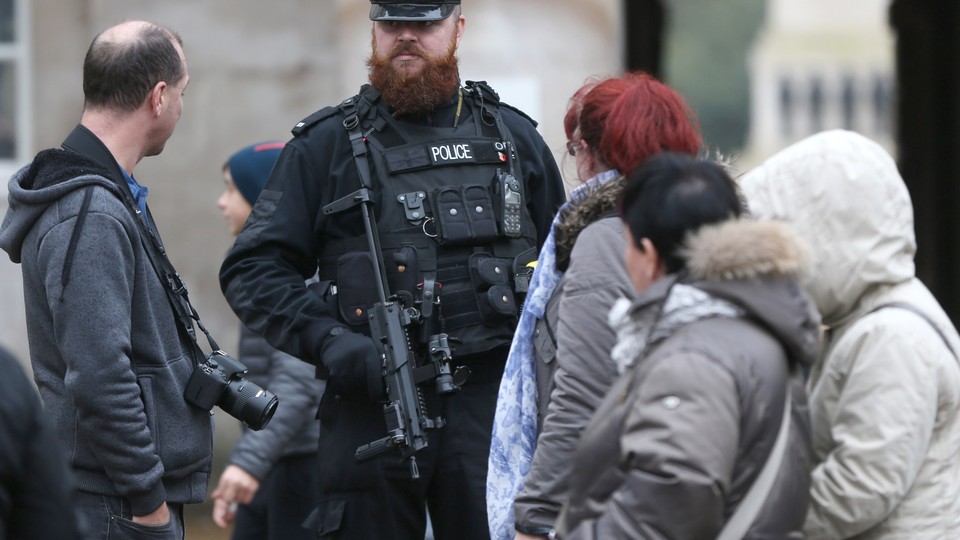 NEWS BRIEF London will add 600 armed officers to its police force, a decision the city's mayor and police commissioner called necessary because of the recent terrorist attacks across Europe.
Unlike in the U.S., not all of Britain's officers carry guns. The move, announced Wednesday, to deploy not only more officers, but armed officers, signals a significant shift in the country's policing practices following the terrorist attacks in neighboring countries. The deployment is the first in a larger effort to increase armed patrols across England and Wales, which together had about 127,000 police officers in 2015. Of those, 5,600 were armed officers.
"The reality of having to deal with armed and deadly attackers is that you need firearms officers who will use force to stop those attackers in their aim," said Metropolitan police commissioner Bernard Hogan-Howe. "Our firearms officers are the ones who will run towards the danger."
The BBC spoke with a few people in London to see how they felt about the announcement. One man, John Lee, told the BBC:
"I never thought I would see the day British police carried weapons in the street like this, but I think that needs to happen now—whether we like it or not."
BBC reported another man said:
"I have mixed feelings about it," says Ebuka Orunta, 20, from south London. "On one hand I feel safer knowing the Met has a strategy in place to mitigate the risk.

"On the other hand, we've seen the problems with police brutality in the US. It's important the people in charge of this weaponry are the right people who are going to protect us."
London officials hope to deter attacks with an armed presence and increase response time in the case of an attack. Other countries in Europe have responded to the threat of terrorism in similar ways. In April, France guaranteed a 20-minute response time from police and military forces to any attack. A quick response time was praised as the reason more people were not hurt or killed in the recent attack on a church in Normandy, France.