The U.S. Air Strikes Against ISIS in Libya
The American military has carried out strikes at the request of the Libyan government, the Pentagon said.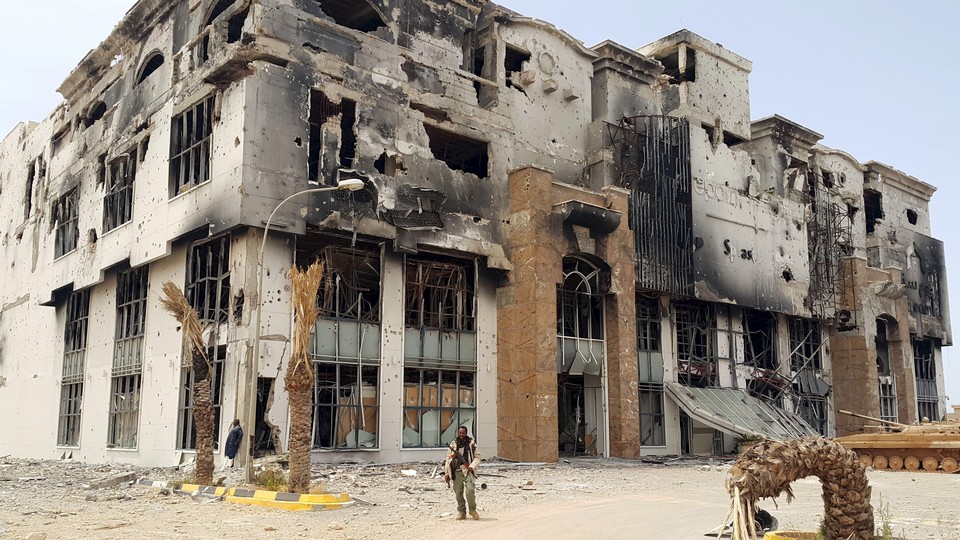 The United States has launched air strikes on Islamic State targets in Libya, the Pentagon said Monday.
The strikes were requested by the Libyan government, Peter Cook, the Pentagon's spokesman, said in a statement. The strikes targeted the city of Sirte, which has been under ISIS control since early 2015 and serves as the group's stronghold in the country. Pro-Libyan government forces in recent months have attempted to dislodge ISIS fighters holed up in the city.
The strikes were authorized by President Obama following the recommendation of Defense Secretary Ash Carter and General Joseph Dunford, the chairman of the Joint Chiefs of Staff.
"These actions and those we have taken previously will help deny ISIL a safe haven in Libya from which it could attack the United States and our allies," Cook said in the statement.
The U.S. has previously bombed ISIS targets in Libya. Air strikes targeted an ISIS training camp in February and a man U.S. officials said was a senior ISIS leader last November.
Cook told reporters in a news conference Monday the Libyan government requested air strikes "recently," but would not give a specific timeline. He declined to answer questions about how the targets were chosen, how many ISIS fighters were killed in the strikes, and whether any U.S. troops are on the ground for this operation. He said one of the targets was an ISIS tank, but did not offer further details. The strikes were carried out by U.S. warplanes, and not aircraft of the U.S.-led coalition against ISIS in Iraq and Syria.
Cook said the U.S. and the Libyan government together would vet future targets.
"We don't have an endpoint in this particular moment in time," Cook said of the operation. "We hope that this is something that won't require a lengthy amount of time."
The Pentagon believes "under 1,000, possibly several hundred" ISIS fighters are in Sirte.
An ISIS presence began to emerge in Libya in late 2014. The U.S. has been sending small teams of special forces to Libya to aid in the ISIS fight since late last year. Cook refused to say Monday whether U.S. ground troops are involved in the latest air operation.