Can This Photo End Vigilante Killings in the Philippines?
The photo, dubbed "La Pieta," has prompted a debate on President Rodrigo Duterte's call to kill all criminals.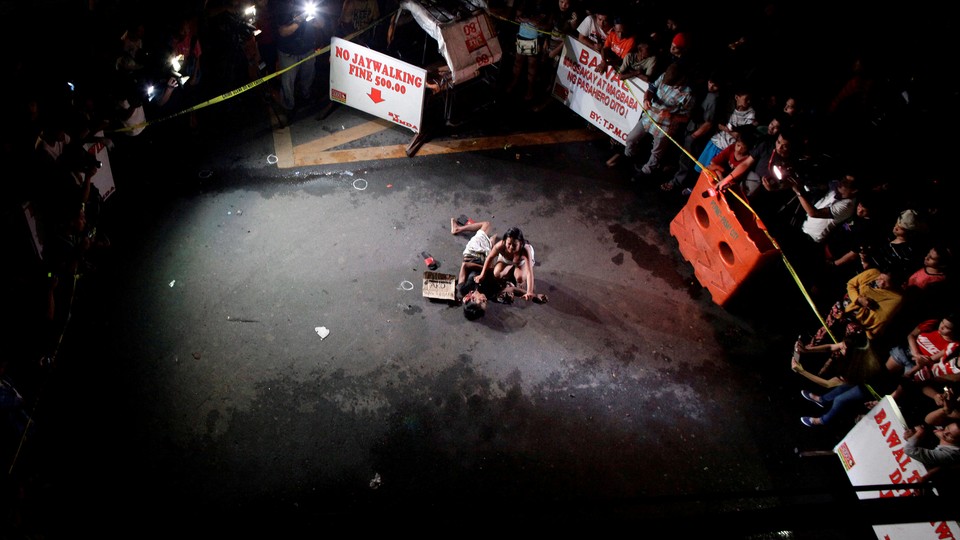 The murder of Michael Siaron last month would ordinarily not have raised much comment. The sidecar driver's body was found July 23 on the streets of Manila; next to it a cardboard sign with the words "I am a drug pusher, don't emulate" written in all-black capital letters.
Raffy Lerma, a photographer with the Philippine Daily Inquirer, had already photographed one death that night during his 9 p.m. to-5 a.m. shift. When he received word of the second body, he raced to the scene. The image he shot there has captured the debate in the Philippines over the rise in extrajudicial killings following President Rodrigo Duterte's election in May and the human cost of those killings.
***
As Rodrigo Duterte campaigned for president he advocated a simple approach to fighting criminals:  "Kill them all," he said to both gasps and loud applause.
Shooting deaths before Duterte won the May 9 election averaged about two a week in the Philippines. Immediately after his victory, one person was killed by police or vigilantes every day. Around the time Duterte took the presidential oath of office on June 30, it had risen to three a day. By July 21, not even a full month into Duterte's term, it increased to 10 a day. In all, since Duterte assumed office, police or vigilantes have killed between 400 and 770 alleged criminals.
Duterte had previously served as mayor of Davao, a prosperous and quiet city on the southern island of Mindanao, for two decades. There he became best known for reducing crime. Bars stopped selling alcohol at 1 a.m. A strict curfew for teenagers was enforced. Duterte's policies, though, weren't without controversy. Human-rights groups said he encouraged vigilante squads to kill criminals. He gloated about personally shooting three men accused of kidnapping a girl. But that seemed to have little effect on his popularity. People liked what he did with the city so much, they believed he could make the same happen across the Philippines. When a New York Times reporter asked a woman in Davao if she feared he'd encourage rogue murders throughout the country if elected president, she said: "He's only going to go after the killers and the drug dealers. Don't be afraid." Filipinos appreciated Duterte's candor. He cussed during speeches. He joked about castrating overly amorous men in order to reduce the country's birth rate. People saw him as someone who could clean up the Philippines from the state decades of elitist politicians had left it in.
Against his two elitist rivals in the election campaign, Duterte marketed himself as a man of the poor. The public loved it when he challenged one rival to a gun duel; the media dubbed him "Duterte Harry." In May he beat his closest opponent by 15 percentage points. On June 30, Duterte took the oath of office in a room full of the country's elites who applauded most fervently when he said, "My adherence to due process and the rule of law is uncompromising."
Then, as a counterpoint, he said, "I know there are those who do not agree with my methods of fighting criminality. In response let me say this: I have seen how corruption bleed the government of funds. I have seen how illegal drugs destroy individuals and ruin families' relationships."
***
Those killed by the vigilantes are usually poor, some drug addicts, and some labeled drug dealers. The killers shoot from motorcycles, drop a cardboard sign with something like "addict" or "drug pusher" scribbled on it, then speed away. Killings like these went from being rare, to becoming daily occurrences, to reaching double digits every day.
The killings weren't normal. All were tied to Duterte's call for the extermination of the country's undesirables—the addicts and criminals. He had promised to "fill Manila Bay with their bodies." Within a week of Duterte officially taking office, the Inquirer was already writing about the killings in a fatigued tone:  "The killings—and the explanations given by the police to justify them—continue to pile up." Officers killed two suspected drug dealers while they were handcuffed. Vigilantes killed a man who had mocked the new national police chief. They shot up a cemetery and killed five people, including a mother and her son celebrating a birthday, leaving behind one sign for all of them. They killed a teenager feeding his dog, who seemingly had no ties to drugs; and police shot and killed a suspected drug dealer because he "tried to grab" an officer's gun. Journalists like Lerma, the photographer with the Inquirer, chronicled many of these killings. But until July 23, when Siaron, the sidecar driver, was killed, the deaths attracted little attention.
Siaron, a 29-year-old drug addict, lived with his girlfriend, Jennilyn Olayres, in a shack in Manila with a leaky roof and no running water, beside a garbage-strewn river. When Lerma reached the scene a crowd stood around a circle of yellow police tape. Lights from the TV crews and their cameras shone on Olayres as she sobbed on the ground and held Siaron's body to her chest.
This is the photo Filipinos have dubbed "La Pieta," and the only part of it that needs explaining is that it captured something previously not captured by political rhetoric, other photos, or written words.
The Inquirer published the photo that next morning. It has since made its way around the world, and unleashed op-ed pieces and articles in Filipino papers about the killings, and about Siaron. "They sought to reduce him to a word hastily scribbled on a scrap of cardboard," the Inquirer wrote. "But, in doing so, they also gave him a face. They made him visible."
With the noise the photo raised around the killings, lawmakers joined in, and one senator, Panfilo Lacson, a former police chief, called for an inquiry into the vigilante murders, which he said sources in the department told him were three times as high as the government will acknowledge. Lacson even demanded an investigation into the officers who offer little reason for shooting people. On Tuesday, another senator, Leila de Lima, addressed Duterte directly:  "Mr. President, truth now, in this country are lines of acrylic marker on a cardboard."
Duterete has mocked the photo. Speaking to Olayres, he said: "You are portrayed in a broadsheet as Mother Mary cradling the dead cadaver of Jesus Christ." He then blamed the media for hyping drama.
Duterte had promised to kill 100,000 criminals in his first six months in office. He is not on pace to do this. But since Lerma took his photo, the killings have increased from 10 each day to 13. This week, Olayres buried Siaron, a man few would care about if not for a photo.