Kenny Baker (1934-2016)
The actor perhaps best known for playing R2-D2 has died after a long illness.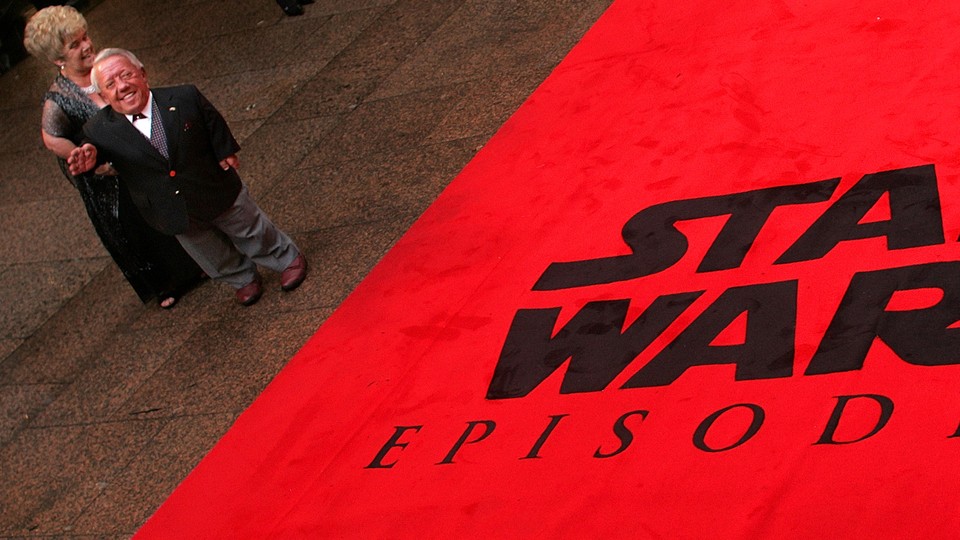 Kenny Baker, the actor perhaps best known for playing R2-D2 in the Star Wars films, has died following a long illness, his niece told The Guardian. Baker was 81, according to the birthdate on his official website. Other news reports said he was 83.
"It was expected, but it's sad nonetheless," Abigail Shield told the newspaper Saturday. "He had a very long and fulfilled life. He brought lots of happiness to people and we'll be celebrating the fact that he was well loved throughout the world. We're all very proud of what he achieved in his lifetime."
Baker, who was 3-feet, 8-inches tall, portrayed R2-D2, in the first of the Star Wars movies in 1977. The movie catapulted the character—and Baker—to international fame. Baker went onto star as R2-D2 in the next five Star Wars movies, and was listed as a consultant on The Force Awakens. He also appeared in Terry Gilliam's Time Bandits (1981), and Neil Jordan's Mona Lisa (1986). But it was Star Wars, and his partnership with Anthony Daniels, who played R2-D2s companion, C-3PO, for which the U.K.-born actor is perhaps best known—despite his ambivalence for the role and his often-tense relationship with Daniels.
Born in Birmingham on August 24, 1934, his website says, Baker began performing in 1950 with the Burton Lester's Midgets. He also worked as a DJ, a clown, and a shadow ringmaster.  He was married to the actress Eileen Baker from 1970 until her death in 1993.
Star Wars fans paid tribute to the actor. This perhaps sums up what many of us feel: