The Resignation of Pennsylvania's Attorney General
Kathleen Kane resigned Tuesday after she was found guilty on nine criminal charges, including criminal conspiracy and perjury.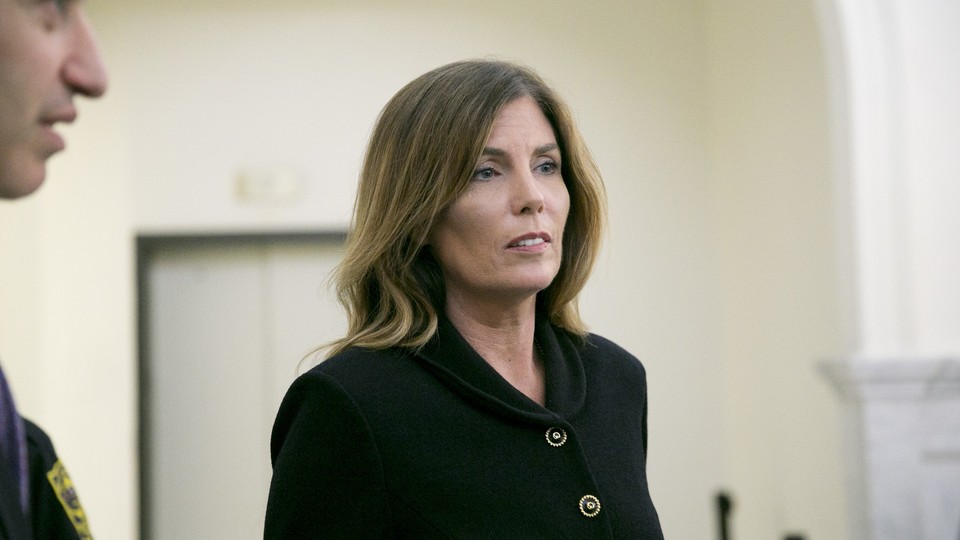 Updated on August 16 at 2:59 p.m. EST
NEWS BRIEF Kathleen Kane, Pennsylvania's Democratic attorney general, resigned from office Tuesday, a day after a jury found her guilty of leaking grand-jury secrets and lying about it under oath.
"I have been honored to serve the people of Pennsylvania and I wish them health and safety in all their days," Kane said in a statement.
After four and a half hours of deliberation, a jury convicted Kane late Monday of nine criminal charges, including criminal conspiracy and two counts of perjury. Each perjury count, a felony, can carry up to seven years in prison. Montgomery County Judge Wendy Demchick-Alloy ordered Kane to surrender her passport and threatened jail time should she seek retaliation against those who testified against her.
Kane was first charged in 2015 when she was accused of orchestrating a leak of confidential grand jury documents in order to circulate a negative story about her political opponent, former state prosecutor Frank Fina. Kane denied the allegations and refused to step down, saying, "A resignation would be an admission of guilt and I'm not guilty."
Prosecutors claim Kane blamed Fina after believing him to be the source of a story published by the Philadelphia Inquirer accusing her of shutting down an investigation into corruption within Philadelphia's Democratic Party. They further claim Kane leaked confidential grand-jury information to the Philadelphia Daily News concerning Fina's handling of an older corruption case in retaliation.
Testifying under the promise of immunity, Josh Morrow, a political consultant to Kane, admitted to lying to the grand jury to protect Kane and playing a role in delivering the leaked information to the Daily News.
Pennsylvania Governor Tom Wolf, who called on Kane to step down after her conviction, praised her decision Tuesday.
What has transpired with Attorney General Kane is unfortunate. Her decision to resign is the right one, and will allow the people of Pennsylvania to finally move on from this situation.
Though Kane's law license was suspended because of the charges brought against her, Pennsylvania law does not require its officials to resign over misconduct until they are sentenced.
Kane made state history when she was elected attorney general in 2012, becoming the first woman and Democrat elected to the position. Her resignation will go into effect Wednesday.