What Happened at the University in Kabul?
The death toll in Wednesday's attack on the American University is 13, including seven students, Afghan police said.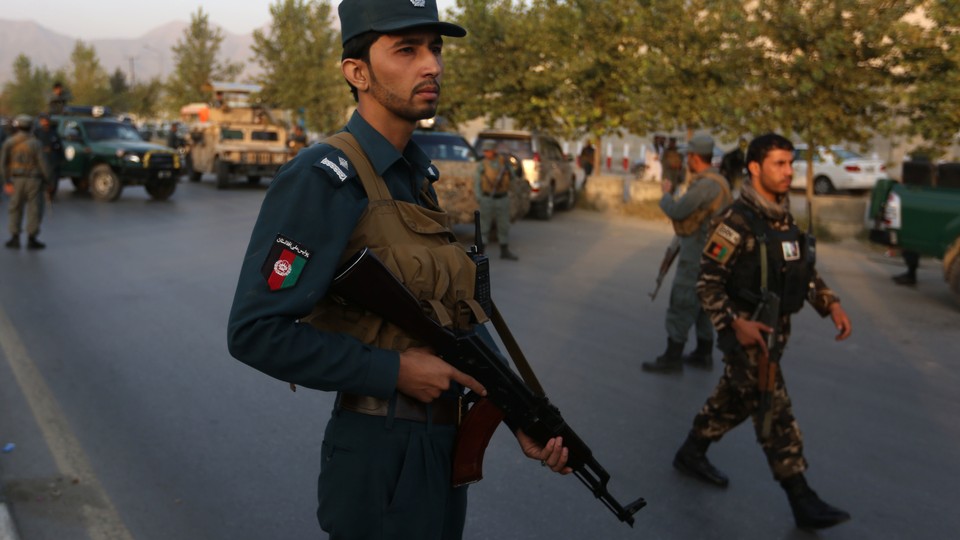 Updated on August 25 at 8:02 a.m.
NEWS BRIEF The death toll in Wednesday's attack on the American University in Kabul is 13, Afghan police said, a day after gunmen opened fire inside the private college in the Afghan capital.
Seven of those killed were students, police said. The others slain were three police and three guards; the two gunmen were killed by security forces after a 10-hour gun battle. No one has claimed responsibility for the attack.
Abdul Rahman Rahimi, Kabul's police chief, told the BBC that 35 students and nine police were injured, and about 750 students and staff were rescued.
---
Updated on August 24 at 2:37 p.m
An explosion and gunfire have been reported at a university in Kabul, according to the school's president.
The attack at American University, a private college in the Afghanistan capital, was reported Wednesday night local time by observers on the ground and news organizations. Its president, Mark English, confirmed to the Associated Press an attack is underway. He said "we are trying to assess the situation."
At least one person has died and 12 are injured, the BBC reported. One reporter in Kabul said on Twitter downtown Kabul was filled with the sounds of ambulance sirens Wednesday night. Police have deployed special forces to the campus.
It is unclear how many attackers were involved. Here's the BBC with an eyewitness account from a student:
Student Ahmad Mukhtar told the BBC that he was 100m (320ft) away from the university's main entrance when he heard "six or 10" shots and a "huge" blast.

The explosion created so much light that it momentarily lit up the surrounding area, he said.

Then there were was more firing inside the campus. He added that he had also heard students shouting.

"I climbed a six-metre wall to escape," Ahmad said.
The reports come more than two weeks after two professors at the university—an American and an Australian—were kidnapped at gunpoint near campus, forcing the temporary closure of the school. Their whereabouts are unknown.