Joe Arpaio's Contempt of Court
The controversial sheriff could face criminal charges for allegedly ignoring court orders in a racial-profiling case.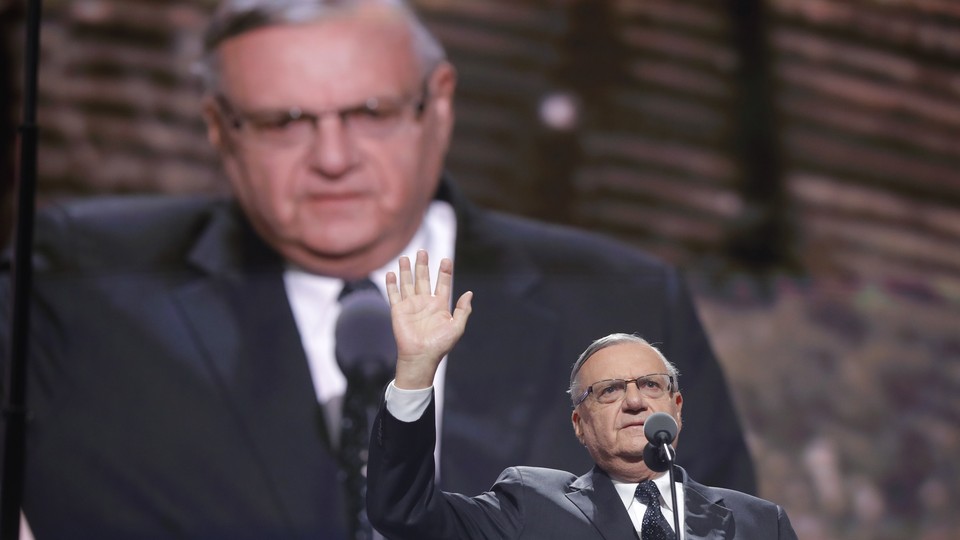 NEWS BRIEF A federal judge in Arizona referred Maricopa County Sheriff Joe Arpaio and three associates to federal prosecutors on Friday for allegedly ignoring a federal court's orders to stop racially profiling Hispanics, compounding the controversial lawman's legal woes.
In his formal order, U.S. District Judge Murray Snow assigned the U.S. Attorney's office in Arizona to prosecute Arpaio, Chief Deputy Jerry Sheridan, Captain Steve Bailey, and Arpaio's former defense attorney Michele Iafrate for criminal contempt of court. The New York Times has more:
[Bailey and Iafate] were both accused of withholding information from a court-appointed monitor about the existence of 1,459 IDs seized in law enforcement operations.

Ultimately, though, Judge Snow laid the blame squarely on Sheriff Arpaio. "The court," he wrote, "has reminded Sheriff Arpaio that he is the party to the lawsuit, not his subordinates, and thus the failure of his subordinates to carry out this court's orders would amount to his own failure to do so."

In his decision, Judge Snow removed several of Sheriff Arpaio's powers, including his ability to oversee internal affairs investigations. The judge had already found that Sheriff Arpaio and his deputies had mishandled and manipulated such investigations, in part to obscure wrongdoing or neglect by deputies.
Snow's order also accused Arpaio and his subordinates of lying under oath and withholding evidence from both the court and a federal monitor overseeing the sheriff's office. The sheriff and Sheridan, Snow wrote, "have a history of obfuscation and subversion of this Court's orders that is as old as this case and did not stop after they themselves became the subjects of civil contempt."
Snow already found Arpaio in civil contempt of court in May for violating a series of orders from a 2011 racial-profiling lawsuit against the sheriff and the Maricopa County Sheriff's Department.
The original complaint against Arpaio came from a Mexican tourist, legally in the U.S., named Jesus Ortega Melendres, who was pulled over by Arpaio's deputies while a passenger in a car with a white driver, and detained for nine hours. With the help of the American Civil Liberties Union, he filed a complaint against the Sheriff's Office in the U.S. District Court District of Arizona. Eventually, two Latino siblings also joined the complainant.

In 2011, Snow issued an injunction that prohibited deputies from targeting Latinos in traffic stops, and in 2013 he appointed a court monitor to see Arpaio complied.
Arpaio rose to national prominence for his aggressive opposition to illegal immigration in his jurisdiction, which includes metropolitan Phoenix. His zealous focus on rounding up undocumented immigrants drew heavy criticism from the ACLU and other civil-rights groups while simultaneously making Arpaio a hero among immigration hardliners on the American right.
"We are more concerned with the rights of illegal aliens and criminals than we are with protecting our own country," he told the Republican National Convention in Cleveland in July. The next day, he returned to Arizona for a hearing on the criminal contempt-of-court allegations against him.
If convicted of criminal contempt, Arpaio could face fines and a prison sentence. He is seeking a seventh term as sheriff of Maricopa County in November.