Is the TTIP Doomed?
Germany's economic minister says negotiations for the proposed U.S.-European Union trade agreement have "failed."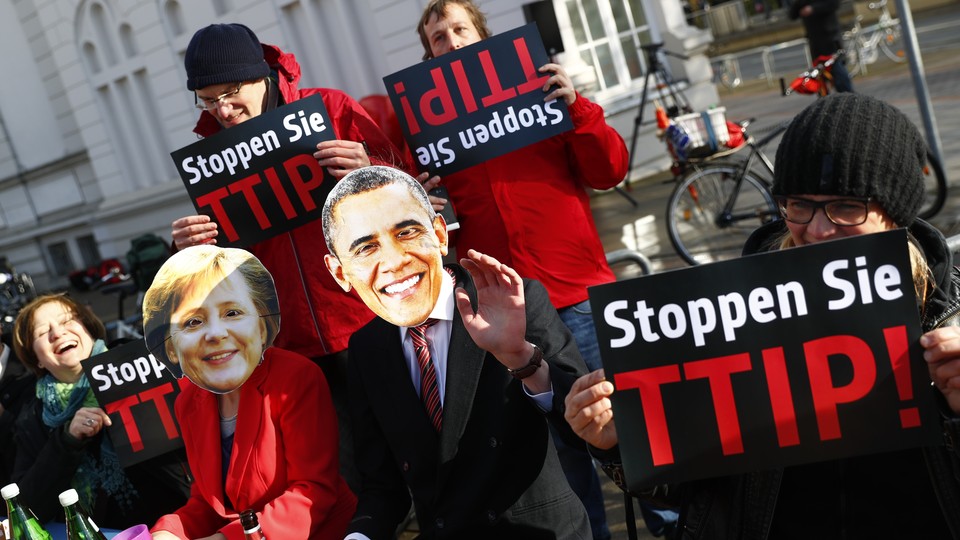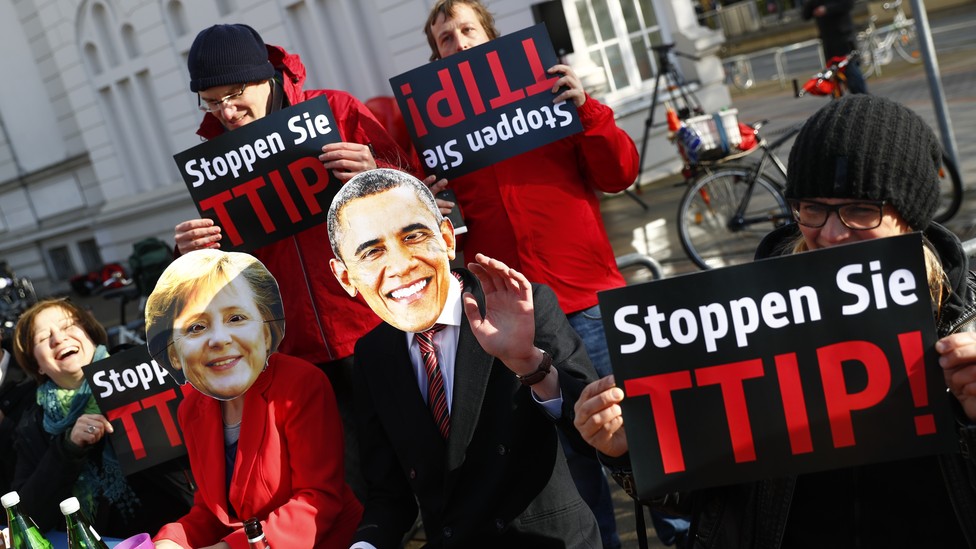 NEWS BRIEF Negotiations between the U.S. and EU members over the proposed Transatlantic Trade and Investment Partnership "have de facto failed," Germany's economic minister said Sunday.
Sigmar Gabriel, the country's minister for economic affairs, told German broadcaster ZDF "nobody is really admitting" the failure of TTIP discussions, but also that "nothing is moving."
American and European diplomats have spent three years so far negotiating the agreement, which would be the world's largest trade agreement if brought into being. The proposed treaty spans 27 chapters, covering issues ranging from anti-corruption measures and intellectual-property protections to market access and trade barriers.
Deustche Welle has more:
Gabriel, who also heads the Social Democrats (SPD), noted that after 14 rounds of talks, the two sides have yet to agree on even one chapter out of the 27 being discussed.

One of the reasons given for the breakdown in negotiations was that "we Europeans did not want to subject ourselves to American demands," Gabriel said.
The TTIP and its Asia-Pacific counterpart, the Trans-Pacific Partnership, are major policy priorities for President Obama's administration as it enters its final months. Diplomats from the U.S. and eleven other Pacific Rim countries finalized the latter treaty's language in October.
But both trade agreements have come under heavy criticism from the American left and right. Republican presidential candidate Donald Trump frequently criticized "bad" trade deals as harmful to working-class Americans in favor of domestic elites and foreign countries. During a speech in June, Trump even claimed the TPP was "pushed by special interests who want to rape our country."
Hillary Clinton, his Democratic rival, initially supported the TPP during her tenure as secretary of state, placing her at odds with large swaths of the Democratic base and Vermont Senator Bernie Sanders, her opponent during the primaries. She later began to back away from the deal in the weeks before the TPP's text was finalized, then declared her opposition to it shortly after its release last fall.
Hopes for the TPP's passage during a lame-duck session of Congress after the November elections also look increasingly grim. Senate Majority Leader Mitch McConnell said last week the agreement "won't be acted upon this year," effectively punting its final fate to the next president.