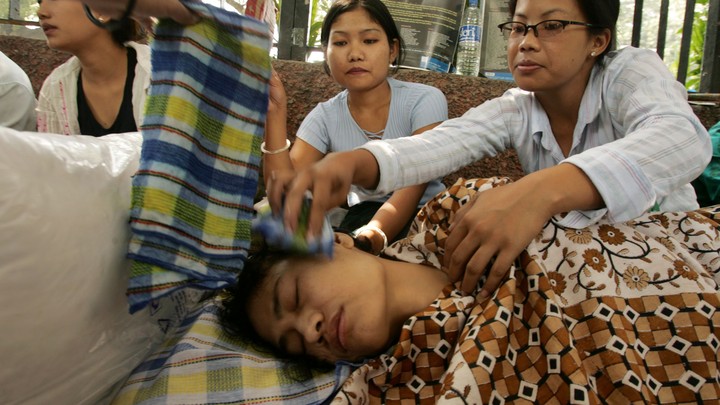 NEWS BRIEF Irom Chanu Sharmila last ate a meal 16 years ago. She has been on hunger strike since 2000, when an Indian paramilitary force killed 10 people in the northeastern state of Manipur. Her aim has been the repeal of a law that allows the military expansive powers; on Tuesday she said she would fight that law another way.
Sharmila has survived without food for so long because the government forced a feeding tube up her nose. The 44-year-old is called the "Iron Lady," and her means of peaceful protest has led her to be compared to Nelson Mandela. She has lived in and out of jail and hospitals during her fast, because Indian authorities have constantly arrested her under a law that makes attempting suicide illegal. On Tuesday she said she would try a new method of resistance: to seek political office.
"I have to change my strategy," Sharmila said. " Some people are seeing me as a strange woman because I want to join politics. They say politics is dirty, but so is society. I want to stand in the elections against the government."
Then, in front of media, she took her first taste of food in 16 years, a dab of honey from her fingertip:
#IromSharmila first taste of food for almost 16yrs pic.twitter.com/gqjr2HGCbM

— Vidhi Doshi (@VidhiDoshi91) August 9, 2016
The law Sharmila has fasted in opposition to is the Armed Forces Special Powers Act (AFSPA), which grants the Indian military special powers in what it regards as disturbed areas. It was passed in 1958, and is viewed by activists as outdated, draconian, and a threat to human rights. The law is in effect across India's northeastern states, sometimes known as the "seven sisters," home to separatist rebellions, as well as in the northern state of Jammu and Kashmir, where separatists are fighting for their own homeland.  
AFSPA allows the government the power to stop and search citizens suspected of acting against the state, to take their belongings, and to shoot them without fear of civil repercussion. The law remains in effect.
We want to hear what you think about this article. Submit a letter to the editor or write to letters@theatlantic.com.