Saudi Arabia's Stranded Indian Workers
India's government has sent teams to help more than 10,000 of its citizens who have no food or money.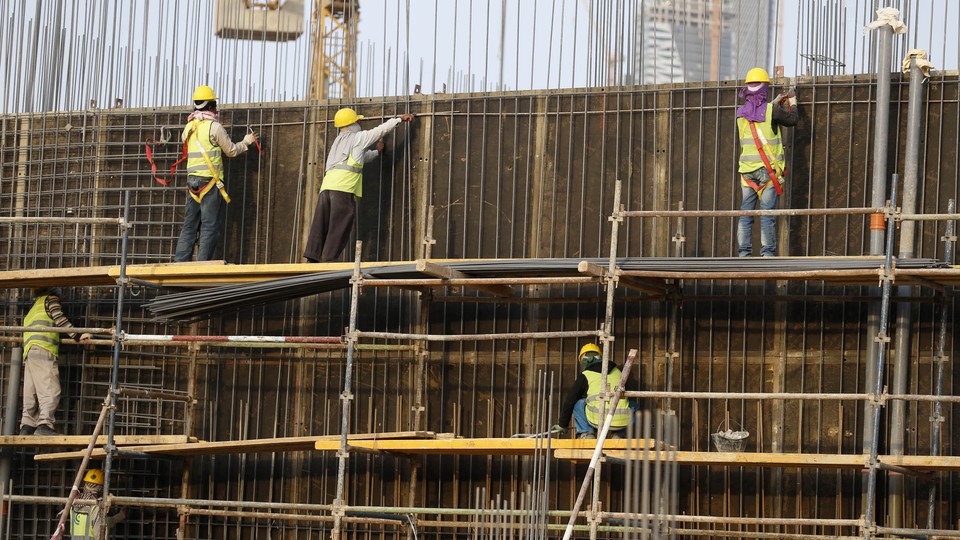 NEWS BRIEF
The Indian government has sent emergency aid to more than 10,000 of its citizens who are stranded in Saudi Arabia without money or food.
Thousands of Indian workers, most of whom worked construction jobs, haven't been paid in seven months. The Indian consulate in Jeddah set up a food line for workers near labor camps, passing out rice, onions, and cooking oil. Sushma Swaraj, the Indian minister of external affairs, said her government was working to help.
I assure you that no Indian worker rendered unemployed in Saudi Arabia will go without food. I am monitoring this on hourly basis.

— Sushma Swaraj (@SushmaSwaraj) July 30, 2016
The conglomerate Saudi Oger Ltd. employed many of the stranded Indian workers, and holds on to their passports, as is the case with low-income migrant workers throughout the Middle East. The company, according to some of the Indian workers, will only return their passports back when they buy a ticket back home to India. Until then, they are stranded in Saudi Arabia.
The Wall Street Journal reports 3 million Indian workers are bearing the brunt of Saudi Arabia's economic downturn due to low oil prices:
The labor unrest is the latest example of how low oil prices have put pressure on government finances and the companies that rely on public spending for much of their business. Saudi Arabia's biggest construction companies have felt the pinch, as have companies in other Gulf countries such as Kuwait, where Indian citizens also have been affected by the crisis.
Human-rights groups have criticized poor working conditions for these workers. Although the Saudi government has tried to implement labor reform, the violations have continued. The Indian government says the situation in Kuwait is more "manageable" for its citizens than it is in Saudi Arabia.
Low-wage workers from India, Pakistan, Bangladesh, and other parts of South Asia form the backbone of the construction business in the Middle East. Consequently, many of these workers have been adversely affected by the impact of low energy prices on the region's economies.