Mexico's Deadly Mudslides
Hurricane Earl dropped a month's worth of rain in a single night, killing at least 40 people.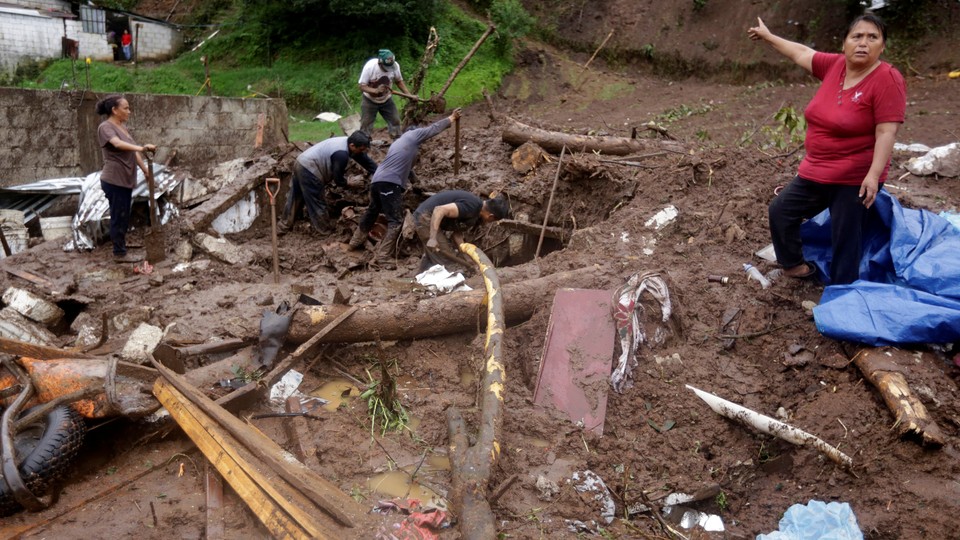 NEWS BRIEF Violent rains caused by Hurricane Earl sent mud flowing down hillsides and killed about 40 people in two Mexican towns along the east coast over the weekend. Meanwhile, towns on the opposite side of the country are preparing for another bad storm.
Hurricane Earl dropped about a month's worth of rain in a single night in Veracruz and Puebla. The torrents loosened the earth near the two communities and mudslides buried homes and people. About 25 people are believed to have died near the town of Huauchinango, a community in the Sierra North de Puebla mountains.
As Reuters reported, the death toll is rising:
Rafael Morena Valle, governor of Puebla state, said canine units were searching for the missing, but the number of unaccounted for residents was unclear.

Images of the damage from Earl, broadcast on Mexican television, showed massive mudslides burying entire hillsides, trees felled and buildings creaking under collapsed walls and roofs.
Earl was downgraded to a tropical storm and is expected to dissipate.
On the opposite coast of Mexico, near Cabo San Lucas on the Baja peninsula, Tropical Storm Javier pushed within 75 miles of land. Its winds have reached 50 mph and the National Hurricane Center issued a hurricane warning for the area, where Javier is expected to follow the coastline north, possibly making landfall late Monday night.