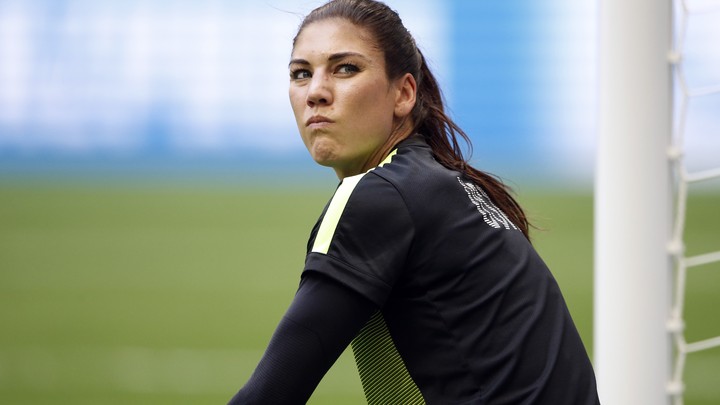 NEWS BRIEF U.S. Soccer suspended goalkeeper Hope Solo on Wednesday for behavior it called "unacceptable" and that does "not meet the standard of conduct we require." The suspension is for six months, but the organization also ended her contract with the women's national team, which makes it likely that Solo, who is one of the world's best goalkeepers, will never play for the U.S. again.
Solo has had several controversial off-field moments—one of which recently led to a 30-day suspension—but Wednesday's move was punishment for comments she made after Sweden beat the U.S. at the Rio Olympics earlier this month. Sweden eliminated the U.S., and did so by playing a conservative game, which prompted Solo to call them "a bunch of cowards."
The general counsel for the women's team, Rich Nichols, said it will appeal the suspension and termination, and called the punishment "unprecedented, disproportionate, and a violation of Ms. Solo's First Amendment Rights."
Solo responded with this:
August 25, 2016
Last year, Solo was banned from the team after her husband, ex-NFL tight end Jerramy Stevens, was arrested and charged with drunken-driving while he and Solo were in a team van. The year before that, Solo was arrested and charged with assaulting two family members. Until Wednesday, the U.S. team seemed to take her behavior in stride because of how well she played.
Solo, 35, has started for the U.S. team for more than a decade. She's played in the past three World Cups, and was named outstanding goalkeeper in the past two. She is considered to be the best female goalkeeper in the world. Her suspension would end February 2017. The women's team has two matches in that time, and it's unclear who would replace her during those games (The New York Times speculated it may be Alyssa Naeher, the backup keeper at the Olympics, or Ashlyn Harris, who made the World Cup team last year). But with the termination of Solo's contract, it could mean she will never play for the U.S. women's team again. If that's true, she would still be eligible to play for her club team, the Seattle Reign.
In its statement, U.S. Soccer said: "Taking into consideration the past incidents involving Hope, as well as the private conversations we've had requiring her to conduct herself in a manner befitting a U.S. National Team member, U.S. Soccer determined this is the appropriate disciplinary action."
We want to hear what you think about this article. Submit a letter to the editor or write to letters@theatlantic.com.