The Niqab Ban at a German School
A German court ruled Monday in favor of a school that expelled a student for wearing the niqab, a full-body veil.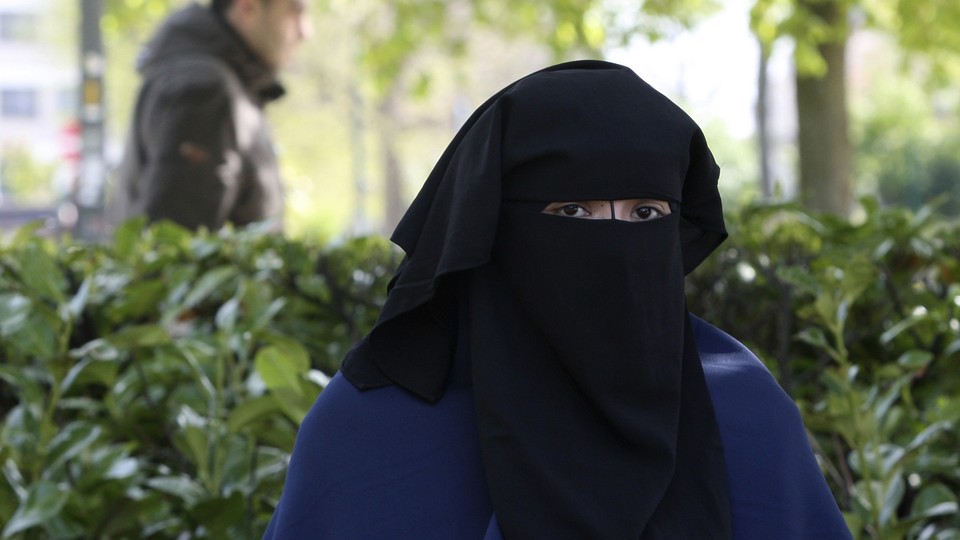 NEWS BRIEF A German court ruled Monday in favor of a school that is seeking to prohibit students from wearing a niqab, a full-body veil that covers a woman's face except her eyes, Deutsche Welle reports.
The student, who has only been identified as an 18-year-old German resident, was accepted to the Sophie Scholl night school in Osnabrück, northern Germany. The school reversed the decision after learning the student wore the niqab to class, claiming her choice of dress violates the school's need for "open communication" with its students.
Deutsche Welle has more:
The Sophie Scholl School didn't want the student to wear her niqab for two reasons. One was that they couldn't identify her—someone else could take a test for her, for example. … The other reason was that school officials believe that the open communication needed in education would not be possible if only the student's eyes are visible.

Open communication "is not just based on the spoken word but also on non-verbal elements and body language," a statement from Lower Saxony's school authority reads. "To facilitate that kind of communication, it is essential that the students' faces are visible."
The student was scheduled to appear in court Monday to present her case against the school's decision, but she didn't show. As a result, the court denied her claim.
The ruling follows a nationwide debate over whether a full-body covering ban, such as the one in place in France, should be implemented in Germany. Last week, German Interior Minister Thomas de Maiziere proposed a ban of the full face veil, which he said "doesn't fit in with our open society." The proposal, which found support among several members of Chancellor Angela Merkel's Christian Democratic Union (CDU), would prohibit women from wearing full-faced veils such as the burqa or the niqab, in public schools, public offices, or while driving.
Members of Germany's Social Democratic Party (SPD) voiced opposition to the proposal, and Andrea Nahles, the employment and social affairs minister and a member of SPD, called the discourse surrounding it  "increasingly xenophobic."
Germany's laws already prohibit face coverings that conceal people's identities at public demonstrations, such as protests. It remains unclear, however, if an outright ban on face veils would be constitutional in Germany, whose constitution guarantees that "freedom of faith and of conscience, and freedom to profess a religious or philosophical creed, shall be inviolable."