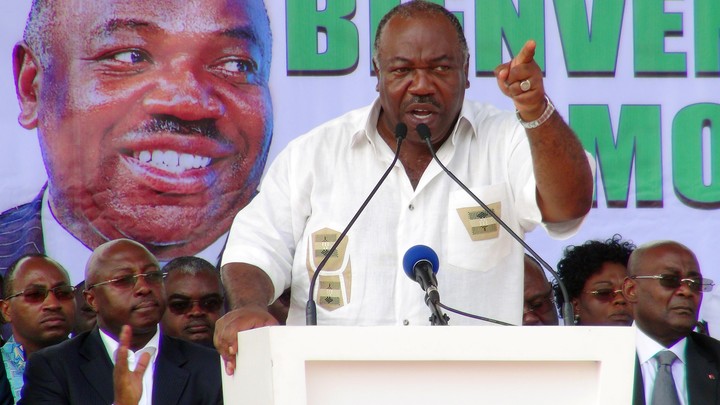 NEWS BRIEF The National Assembly building in the capital of Gabon was set ablaze Wednesday night in protest of presidential election results announced earlier that day.
Demonstrators set #Gabon parliament on fire as protests intensifies following disputed election results #Gabon2016 pic.twitter.com/f1rDfDqEUu

— Alhagie Jobe (@freejobe39) August 31, 2016
The protests in Liberville began Wednesday following the announcement that the West African country's incumbent President Ali Bongo was re-elected in a narrow victory, with 49.8 percent of the vote, Reuters reports. Supporters of rival candidate Jean Ping, who secured 48.2 percent of the vote, called the election rigged.
Thousands of people took to the streets after the results were announced, Agence France-Presse reports. Police forces reportedly began using tear gas and water cannons to disperse the crowds.
One Twitter account associated with Ping's election campaign posted photos and videos showing protesters, security forces, and medical responders on the scene.
Au tirs à balles réelles nous opposants le chant de notre hymne national La Concorde. Dieu bénisse le #Gabon pic.twitter.com/f7ZLxDMVV1

— MOUVANCE JEAN PING (@MouvancePing) August 31, 2016
More footage and photos posted to this account showed protesters shouting and chanting. An injured man was carried away on a stretcher by paramedics and loaded into an ambulance. Some people sustained bloody cuts on their arms and chests.
#Gabon Election: @usembassygabon reports protests, tear gas in #Libreville: https://t.co/Om3sVxqprh #GabonVote pic.twitter.com/h4KJqIHPqL

— OSAC (@OSACState) August 31, 2016
Bongo was first elected president of Gabon in 2009, succeeding his father Omar, who had previously ruled the oil-rich country for 42 years. Bongo hailed the outcome of the election, which he called "peaceful and transparent," and called for unity among the Gabonese people.
"At the end of this presidential election, a majority of your votes were cast on my candidacy," Bongo said in a statement Wednesday. "But in this hour, it is all the Gabonese people who voted—in peace and transparency—who I commend."
Ping, who campaigned as a candidate of change from the previous five decades of leadership under the Bongo family, rejected the results and called for a recount.
Même les USA demandent de recompter les résultats par bureau de vote.
Election in #Gabon https://t.co/TiiALugQNl (from @StateDept)

— Jean Ping (@pingjean) August 31, 2016
"Even the US demands a recount of the results by the polling stations," he tweeted.
Ping was referring to a statement issued by the United States Wednesday calling on the Gabonese electoral commission to release the results by each individual polling station:
Elections must credibly reflect the will of the people. We call on the Gabonese Government to release results for each individual polling station. This will help give the people of Gabon, as well as the international community, confidence the announced vote tallies are accurate. Anyone seeking to challenge the results must do so peacefully and in accordance with Gabon's legal justice system.
France, which ruled Gabon as a colony until 1960, also called on the Gabonese government to release the election results.
"We think it is necessary to publish the results of all the polling stations," the French foreign ministry said. "The credibility of the election as well as Gabon's international reputation are at stake."
The European Union's electoral monitoring team expressed similar concerns over what it described as a "lack of transparency" and called on the Gabonese government to release the polling results.
Gabon faced similar post-election violence after Bongo was first elected president in 2009, in which two people were killed.
We want to hear what you think about this article. Submit a letter to the editor or write to letters@theatlantic.com.