France's Call for Refugee Hosts
The housing ministry's initiative aims to bring in an additional 1,000 more to the country.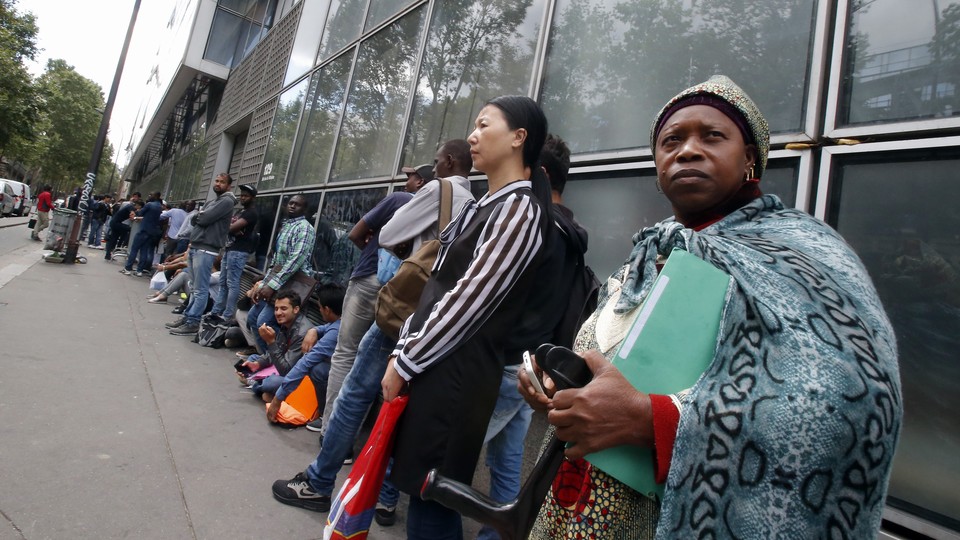 NEWS BRIEF The French Ministry of Housing and Sustainable Homes says it will pay 1,500 euros to organizations for each refugee they help to house, as the country's migrant centers are overcrowded.
"Citizens hosting #refugees : @emmacosse calls for organization's projects, open until 09/20," the ministry tweeted.
Emmanuelle Cosse, the housing minister, released a statement Tuesday urging French organizations to submit "citizen engagement" proposals to help coordinate the housing and integration of incoming refugees. She said:
As part of the European agreements, France will receive more than 30,000 refugees from Turkey, Lebanon, and from hot spots in Greece and Italy in 2017. And millions of others will arrive on their own to apply for asylum in France. …  This call for citizen housing would support and accompany civil society's goals and welcome an additional 1,000 refugees within an experimental and innovative initiative.
To accommodate the expected refugee influx, the ministry announced plans to more than double the capacity of refugee centers from 2,000 spaces to 5,000 spaces by September, Le Monde reports. An estimated 500 refugees have already been placed with French families, and Tuesday's proposal aims to increase that number by 1,000.
"It is a great way to build relationships and create a network, but there are safeguards, to ensure accommodations are in good condition, that it's free, and that it's not overly burdensome for the families," Cosse told Le Monde.
Organizations interested in the project must be able to coordinate housing for 50 or more refugees, as well as find hosts who can provide private rooms for a minimum of three months. The organizations must also provide legal resources and emergency support. In return, the government has offered to provide the organizations with monetary incentives of up to 1,500 euros per refugee per year.
Far-right group have criticized the proposal with Marion Le Pen, a lawmaker from National Front, tweeting against the program, implying that the minister is asking citizens to harbor refugees.
In response, Cosse tweeted, "Welcome, solidarity: French traditions @Marion_M_Le_Pen ignores but many practice. Proud to support."
The French government has reaffirmed calls to accept refugees, pledging to accept 30,000 within two years, despite calls for the EU's borders to be closed following recent terrorist attacks across France that have killed more than 200 people since 2015.