The Spread of the Burqini Ban
A village in Corsica became the third place in France to ban the swimsuit from its beaches Monday after a fight broke out over the weekend.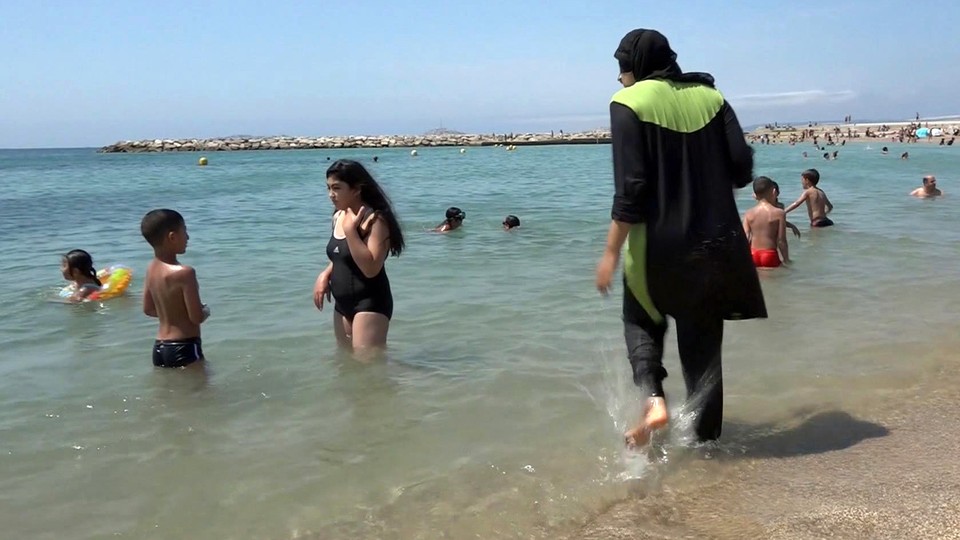 NEWS BRIEF A village in Corsica became the third place in France to ban the Burqini from its beaches Monday after a fight broke out over the weekend over the swimsuit favored by some Muslim women, Agence-France Presse reports.
Five people were injured and three cars set ablaze in the village of Sisco Saturday after a dispute between beach-goers ended with both sides reportedly throwing stones and bottles at one another. The French Interior Ministry reports 100 police officers were needed to restore order. An inquiry has been opened to determine what prompted the brawl; a witness said the fight began after tourists took photographs of women wearing Burqinis.
The tensions continued Sunday, where approximately 500 people gathered outside the Lupino district of Bastia, home to Corsica's large North African community. The crowd was blocked from entering by police.
Bernard Cazeneuve, the French interior minister, condemned the violence in Sisco.
This is not the first instance of tensions in Corsica between the North African community and those opposed to their presence. In December, a Muslim prayer hall was set on fire after an incident in which firefighters and police were ambushed in an immigrant neighborhood.
Although the French census does not count a person's religion, between eight and 10 percent of Corsica's total population is estimated to be made up of immigrants; that's one of the largest proportions of immigrants in France, second only to Paris.
Sisco's Burqini ban, which goes into effect Tuesday, follows those imposed in the French resorts of Cannes, where the ban was upheld by a court Saturday, and Villaneuve-Loubet, which banned the costume, prompting a nationwide debate over the role of conservative Muslim dress in secular France.
This debate was typified online between Gérard Araud, the French ambassador to the United States, and Rim-Sarah Alouane, a doctoral candidate in public law at the University of Toulouse 1 Capitole. While Araud argued the ban was valid on the grounds that it protects women from "cultural oppression," Alouane said the law must protect religious freedom and state neutrality, instead of being, as she argued, "used as a tool to restrict both."
Religious dress has long been a source of contention in France, whose secular laws forbid people from wearing religious symbols in public spaces, such as schools. In 2010, France passed a law, known commonly as the Burqa Ban, prohibiting the wearing of face-covering headgear in public spaces.