The End of Trump Taj Mahal
The Atlantic City casino is expected to close in September following a month of union strikes.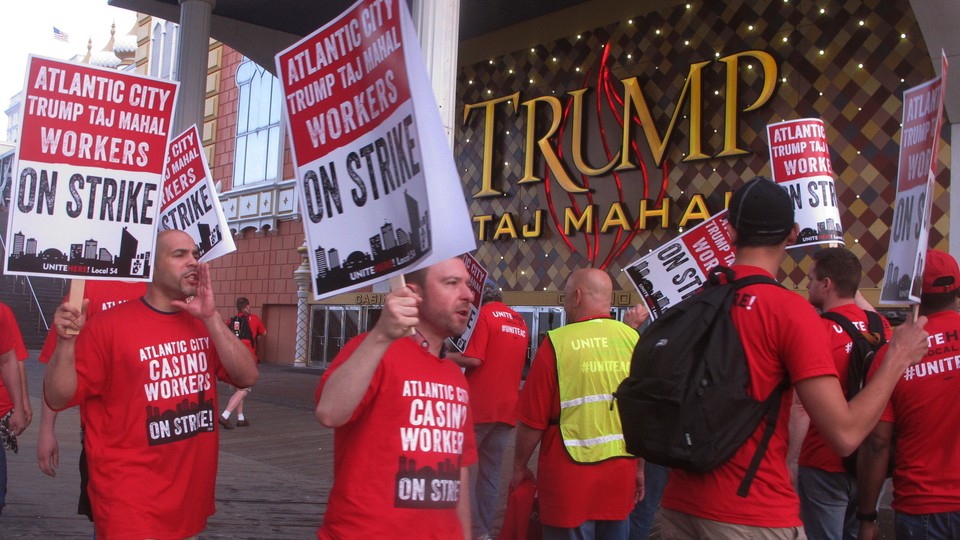 NEWS BRIEF The Trump Taj Mahal Casino in Atlantic City, New Jersey, will close after Labor Day weekend following one month of union strikes, the Press of Atlantic City reports.
"Currently the Taj is losing multi-millions a month, and now with this strike we see no path to profitability," Tony Rodio, president of Tropicana Entertainment, which manages the casino, said in the statement Wednesday.
The strike by Unite Here Local 54, a union representing hospitality workers in Atlantic City, began in July in protest of the casino's lack of health insurance and pension benefits. A federal judge permitted the casino to eliminate those benefits in 2014, when Trump Entertainment Resorts filed for bankruptcy. The casino was built by Republican presidential candidate Donald Trump, then-Trump Entertainment Resorts chairman, in 1990. Trump resigned as chairman following the company's bankruptcy in 2009, though he maintained a 10 percent interest in the casino because it retained the name "Trump Taj Mahal."
Icahn Enterprises, owned by investor Carl Icahn, bought the casino—including the 10 percent stake owned by Trump—after it emerged from bankruptcy in February.
The strike, composed of more than 1,000 resort workers, is one of the longest strikes in Atlantic City's 38-year casino history.
Bob McDevitt, president of Unite Here Local 54, said in a statement Wednesday:
These workers are exercising their fundamentally American right to stand up for themselves in the face of injustice. Carl Icahn took it personally. This is clearly not a business decision – a few million dollars is a drop in the bucket compared to the money he publicly promised he would put into the Trump Taj Mahal. It's a classic take-the-money-and-run: Icahn takes hundreds of millions of dollars out of Atlantic City and then announces he is closing up shop.
The closure is expected to cost 3,000 jobs and bring the number of Atlantic City casinos down to seven. The city lost 8,000 jobs and four casinos in 2014: The Atlantic Club, Showboat, Revel, and Trump Plaza.