'A Major System-Wide Outage'
Delta says its flights worldwide are affected Monday by a power outage in Atlanta that hit its computer systems and operations.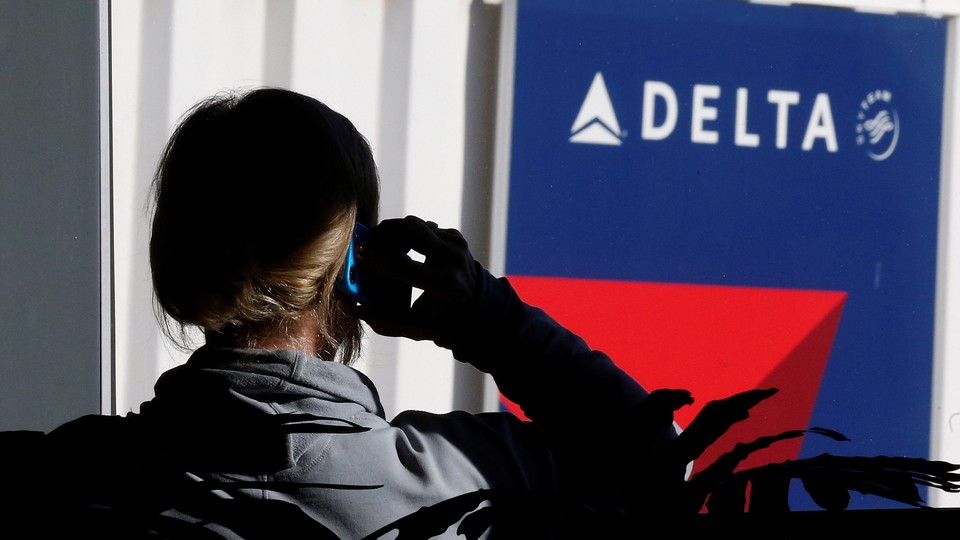 What we know:
—Delta flights worldwide were delayed or canceled following a systemwide computer outage in Atlanta, where the airline is based.
—The airline says its computer systems are now operational and flights have resumed.
—We're live-blogging the major updates. All updates are in Eastern Daylight Time (GMT -4).
---
5:56 p.m.
Delta will provide $200 in travel vouchers to passengers who were delayed for more than three hours or who had a canceled flight in the system-wide outage. The vouchers will be for all Delta flights.
Announcing the compensation, Gil West, the senior vice president and chief operating officer, said:
We know that travelers value our commitment to excellent operational performance, and today we did not deliver on that commitment. We want our customers to know we are thoroughly investigating the matter and that we are truly sorry.
Systems have been restored and Delta flights have resumed. The company warns, though, that there could be further delays and cancelations as the recovery continues.
---
2:02 p.m.
Ed Bastian, Delta's CEO, is apologizing to customers for the delayed and canceled flights, saying an "all-hands-on-deck effort" was underway to restore normal operations. Here's more:
I apologize for the challenges this has created for you with your travel experience.  The Delta team is working very, very hard to restore and get these systems back as quickly as possible.

For those of you who have been inconvenienced and need to access and make changes to your travel plans, we have instituted system-wide waivers and you can access those either through delta.com or by talking to any of our reservation agents.
---
1:37 p.m.
The number of flights canceled by Delta amid its global outage has risen to 451, the airline said at 1:30 p.m. It's operating about 1,679 of its nearly 6,000 scheduled flights.
---
1:23 p.m.
The system outage has caused Delta to cancel 427 flights worldwide, the airline said at 1 p.m. It operated about 1,590 of its nearly 6,000 scheduled flights.
---
12:17 p.m.
Delta has released the latest on its day of cancellations and flight delays:
As of noon ET @Delta has cancelled approx. 365 flights and operated more than 1,260 flights of the nearly 6,000 flights scheduled today.

— Delta News Hub (@DeltaNewsHub) August 8, 2016
---
10:44 a.m.
In its update at 10:30 a.m., Delta said it had canceled approximately 300 flights and operated 800 flights of the nearly 6,000 flights scheduled that were scheduled for Monday.
---
10:17 a.m.
.@Delta has cancelled approx. 300 flights due to power outage. Systems are coming back online, but delays and cancellations continue.

— Delta News Hub (@DeltaNewsHub) August 8, 2016
It's unclear when full service will be restored.
---
8:45 a.m.
Delta says its ground stop has been lifted and some planes are now taking off, though cancellations and delays continue.
Here's more from the airline:
Customers heading to the airport should expect delays and cancellations. While inquiries are high and wait times are long, our customer service agents are doing everything they can to assist. There may also be some lag time in the display of accurate flight status at delta.com, the Fly Delta App and from Delta representatives on the phone and in airport.
---
Updated at 8:16 a.m. ET
NEWS BRIEF Delta flights worldwide were affected Monday following what the airline called "a major system-wide outage." The outage caused all departing flights to be delayed, though those en route are operating normally, the airline said.
Here's more from the airline at 6:55 a.m.:
A power outage in Atlanta, which began at approximately 2:30 a.m. ET, has impacted Delta computer systems and operations worldwide, resulting in flight delays. Large-scale cancellations are expected today. All flights enroute are operating normally. We are aware that flight status systems, including airport screens, are incorrectly showing flights on time. We apologize to customers who are affected by this issue, and our teams are working to resolve the problem as quickly as possible. Updates will be available on news.delta.com.
Delta said it will allow those people whose flights were affected to make a one-time change to their tickets without incurring a fee. And, it said: "If your flight is canceled or significantly delayed, you are entitled to a refund."  Delta, the world's third-largest airline by number of passengers, carries 138.8 million people each year.