The First Commercial U.S. Flight to Cuba Since 1961
JetBlue Flight 387 left Florida Wednesday morning with 30 passengers and arrived in Santa Clara.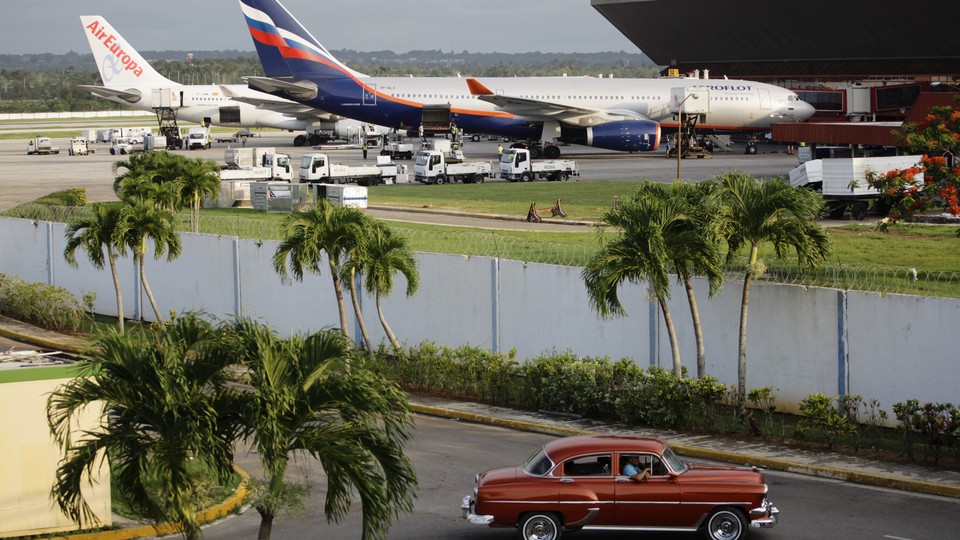 NEWS BRIEF The first commercial flight from the U.S. to Cuba in more than 50 years took off Wednesday from Florida and arrived in Santa Clara.
The return to regularly scheduled flights between the countries is a major moment in the rapprochement between the two Cold War-era rivals who until recently had no direct commercial travel links nor diplomatic relations. But two years ago, President Obama and Cuban President Raúl Castro set in motion a process to re-establish relations and reopen embassies, culminating in a groundbreaking presidential trip to Cuba in March, the first of a sitting U.S. president since Calvin Coolidge in 1928.
JetBlue Flight 387 departed Florida at 9:45 a.m. and was scheduled to land in Santa Clara, about 175 miles from Havana. The city is home to a mausoleum built in remembrance of Che Guevara. The plane will carry about 30 passengers, including the U.S. Transportation Secretary, Anthony Foxx.
In Fort Lauderdale, Florida, on Wednesday, a salsa band played as passengers waited to board the flight. The plane passed through a water-cannon archway before it took off. Here's a video of the flight:
JetBlue is one of six airlines approved to make regular commercial flights to Cuba; the others are Delta, American Airlines, Southwest, Silver Airways, and Frontier. Last year U.S. visitors traveling to the island spiked to about 93,000—double the previous year's numbers. And while travel restrictions have eased considerably, passengers still have to meet one of the 12 approved categories, like education and journalism, in order to be granted a visa to take the flight.
Congress had some some concerns about flight safety, and in July a group of lawmakers tried to block travel to Cuba, with New York Republican Congressman John Katko saying, "You've got a potential nightmare on your hands." The group of House members wanted to fly to Cuba to inspect airport security for themselves, but they were denied visas.