The Lawsuit on Behalf of 'Clock Boy'
Ahmed Mohamed, a 14-year-old Texas boy, was arrested last September for taking a homemade clock to school that some teachers thought looked like a bomb.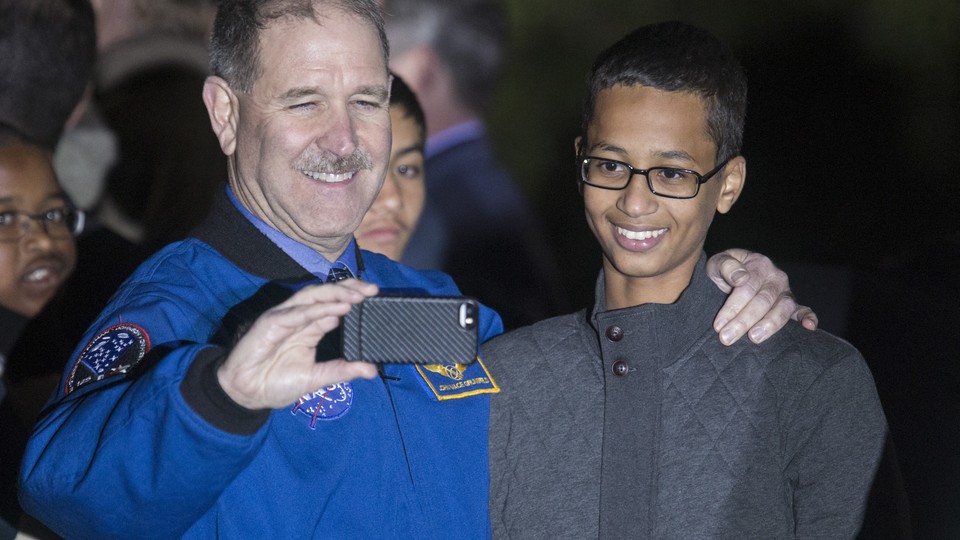 NEWS BRIEF In the 11 months that have passed since Ahmed Mohamed was arrested for bringing a homemade clock to school that teachers thought looked like a bomb, the 14-year-old Muslim boy from Texas  has received national media attention, death threats, and a scholarship that took him to Qatar. Now, his family is suing the school district and city for violating his civil rights.
The lawsuit, which was filed Monday, claims Mohamed's rights were violated in the incident, citing what it says were years of racial discrimination in the Irving Independent School District. The lawsuit also alleges Mohamed was held unlawfully without cause. More from the suit:
There was very clearly no probable cause to believe that Ahmed had committed any crime. The officers were well aware that the home-made clock was not a bomb, as indicated by their actions in plugging it in and keeping it in the room with them for almost an hour and a half while they interrogated Ahmed. They had no information at all that a single person claimed that Ahmed had made any threats, caused any serious alarm or intended anyone to believe that the clock was anything but a clock. It defies common sense to say that because it had wires and electronics, it looked like a bomb.
While the charges of bringing a hoax bomb to school were dropped, the 9th grader, known nationally as "Clock Boy," was still suspended from MacArthur High School for three days last September.
Mohamed returned to Irving from Qatar in June for vacation. It was then that his family hired the Texas firm that is currently representing a Baylor University student who is suing the school for allegedly ignoring her sexual-assault claims, The Washington Post reports. The specific dollar amount that the family is seeking in damages is not yet public.