China's New Futuristic Commuter Bus
The Transit Elevated Bus, or "straddling bus," can accommodate up to 300 passengers as its glides over normal traffic.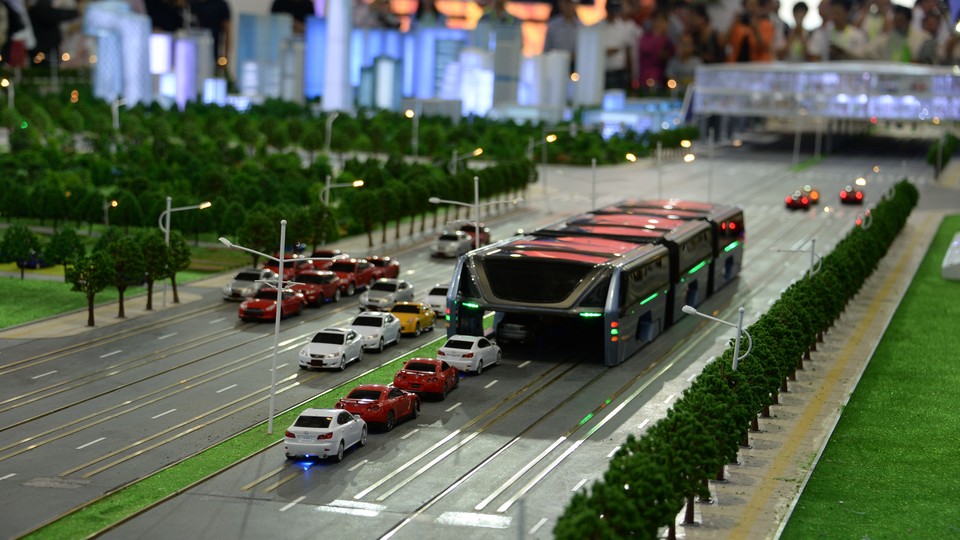 NEWS BRIEF New bus technology made its debut Tuesday during a road test in Qinhuangdao, China, the BBC reports—and it's truly the stuff of the future.
The TEB, also known as the "straddling bus," got its nickname because its design—which spans 72 feet long and 25 feet wide— doesn't require elevated tracks or underground tunneling. Instead, it simply straddles the traffic below, allowing cars beneath to drive uninterrupted.
The electric-powered bus is expected to accommodate up to 300 passengers, or the equivalent of 40 conventional buses. Its operation has the potential to cut carbon emissions by almost 2,500 tons, the project's chief engineer Song Youzhou told Xinhua news agency in May. The bus is expected to reach speeds of up to 60 kilometers, or 37 miles, per hour.
Song's idea for the project was introduced in 2010. A working scale model was first unveiled in May at the 19th annual China Beijing International High-Tech Expo.
In addition to easing traffic on the road, the project also aims to alleviate China's air pollution problems.