A Glimpse of the Chibok Schoolgirls
A video released Sunday purportedly shows some of the students abducted by a Nigerian militant group more than two years ago.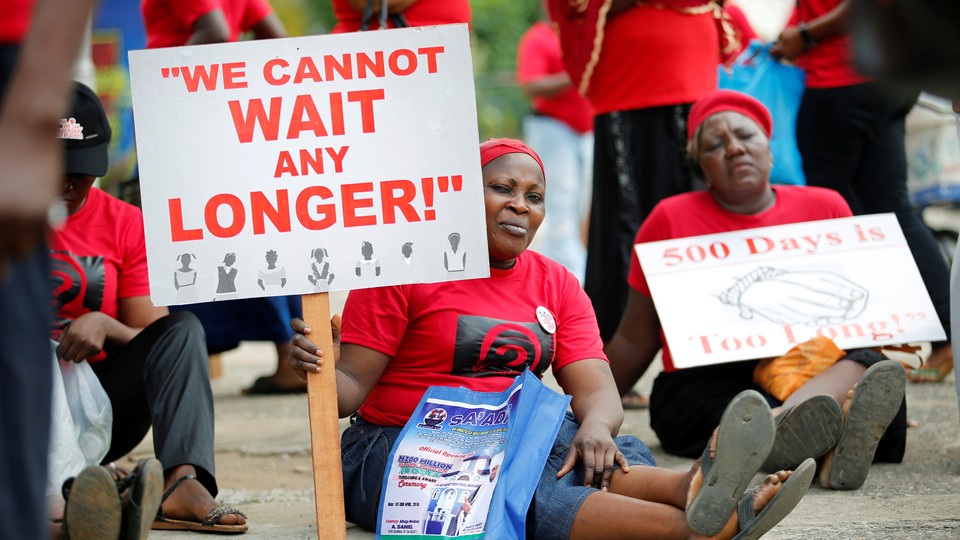 NEWS BRIEF The Nigerian militant group that kidnapped more than 270 schoolgirls more than two years ago has released a video purportedly showing dozens of them alive.
The footage from Boko Haram, posted on Twitter Sunday by Nigerian journalist Ahmad Salkida, appears to show more than 40 girls, covered in hijabs and some holding infants. The Islamist militant group alleges they were among the 278 abducted from their school in Chibok in northeastern Nigeria in April 2014. Dozens of girls managed to escape in the hours after the ambush, but the fate of the missing 218 girls remains unknown.
In the video, which lasts 11-and-a-half minutes, a militant, masked and dressed in camouflage, warns the Nigerian president, Muhammadu Buhari, that if bombing continues, the girls will not be seen again, according to the AP's translation of the Hausa language. He says some of the girls have life-threatening injuries, and that 40 have been "married" to militants. Later, one of the schoolgirls addresses the Nigerian government, asking officials to release detained Boko Haram militants in exchange for the girls. She says some of the girls died in air strikes by Nigerian forces, which are trying to drive the militant group out of the country.
Here's a still image from the video, from Reuters: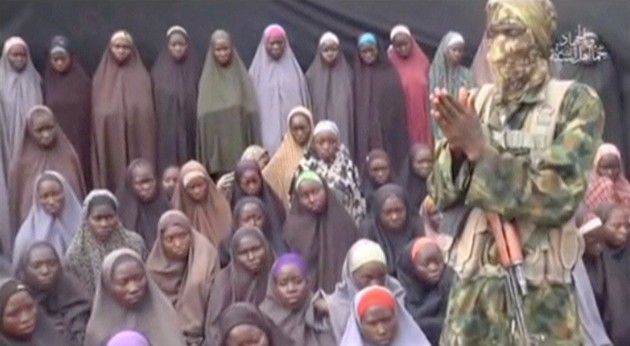 The video also shows what appears to be the bodies of schoolgirls on the ground, lifeless.
The video was cited by the SITE Intelligence Group, which monitors potential jihadist activity on the internet. Nigeria's Ministry of Information and Culture, Nigeria said in a Facebook post Sunday government officials are communicating with the individuals allegedly behind the video. Several parents have already told news organizations they recognized their daughters in the video.
In May, one of the schoolgirls was found, along with her four-month-old baby and a man claiming to be her husband, by Nigerian forces in a forest in the northeast part of the country. She was the first of the hostages to be rescued.
The insurgency of Boko Haram, which adheres to strict Sharia law and opposes Western-style education, is in its seventh year. More than 20,000 people have been killed and two million driven from their homes during the uprising. Relatives of the captive schoolgirls and other demonstrators hold regular protests in Abuja, the Nigerian capital, calling for the government to increase its efforts to find them.