Canada's Hijab-Friendly Police Uniforms
The Royal Canadian Mounted Police will now allow female members to wear the head covering as part of their uniform.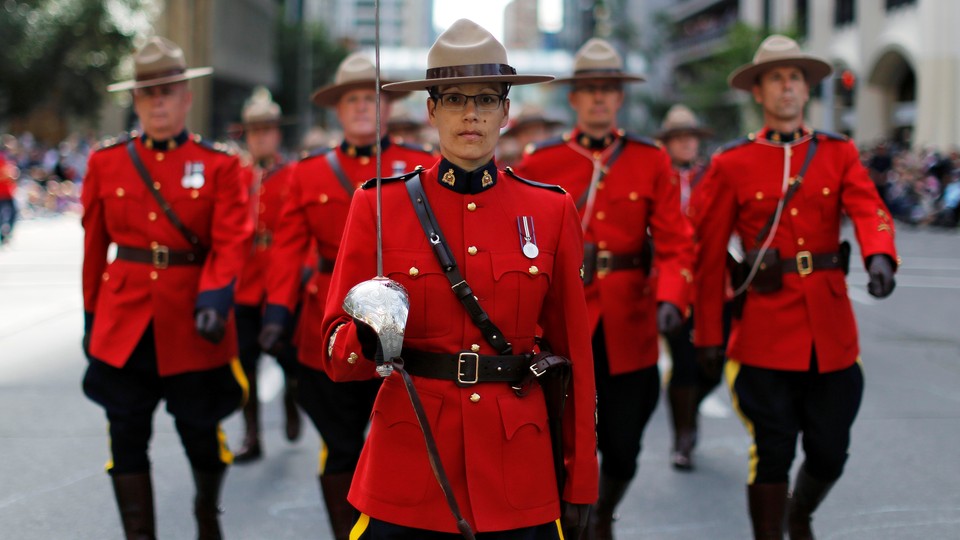 NEWS BRIEF The Royal Canadian Mounted Police (RCMP) will now allow its female officers to wear the hijab as part of its official uniform, the Associated Press reports.
Scott Bardsley, a spokesman for Public Safety Minister Ralph Goodale, said Wednesday the addition to the uniform aims to better reflect the diversity of Canada, as well as encourage more Muslim women to join the "Mounties," as the police force is called. Of the approximately 19,000 Canadians employed by the force, 20 percent are women, though it is unclear how many of them will be affected by this new policy.
"The Royal Canadian Mounted Police is a progressive and inclusive police service that values and respects persons of all cultural and religious backgrounds," Bardsley told AP in an email.
The decision by the RCMP follows similar uniform policy changes made to Canadian police services in Toronto and Edmonton, as well as in police forces throughout the United Kingdom, Sweden, Norway, and the United States.
The RCMP has updated its uniform standards in the past to reflect the diversity of those serving within its ranks. In the late 1980s, Baltej Singh Dhillo, an RCMP recruit and a practicing Sikh, petitioned the Canadian government to allow the turban worn by Sikh men to be included in the Mountie uniform. In 1990, the government accepted the change.
Canada's decision contrasts with the current burqini ban debate in France, where at least 15 towns have implemented bans prohibiting people from wearing full-body swimsuits favored by some Muslim women. Though some Canadian lawmakers in Quebec have called for Canada to outlaw the conservative swimwear, Prime Minister Justin Trudeau dismissed the idea Monday, calling instead for Canadians to practice tolerance toward others.
"In Canada, can we speak of acceptance, openness, friendship, understanding? It is about where we are going and what we are going through every day in our diverse and rich communities," he said.