The Man Charged With Starting a 4,000-Acre Wildfire
Investigators say Damin Pashilk started the Clayton fire and several other wildfires from last year.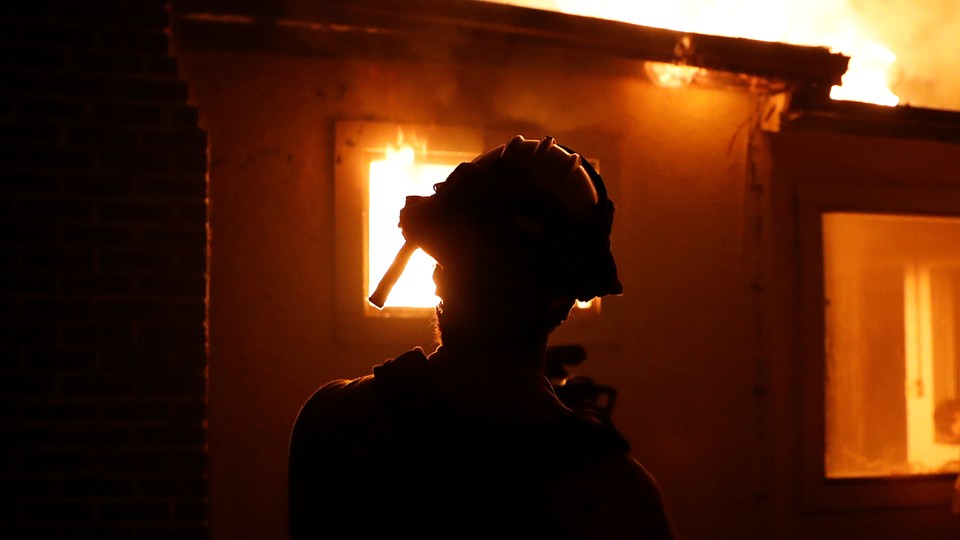 NEWS BRIEF A California man was arrested and charged in connection with starting a wildfire that has scorched 4,000 acres, destroyed 175 buildings, and displaced more than 1,500 people.
The Lake County Sheriff's Department arrested Damin Pashilk late Monday, and along with the Clayton fire, which is burning just north of San Francisco, officers also believe he's involved in several other fires started in the last year. He has been charged with 17 counts of arson.
The Clayton fire started Saturday afternoon, and partly because of the high temperatures and dry weekend, it has quickly spread. By Sunday the fire had doubled in size, and firefighters only had the blaze 5 percent contained. Residents in the area, a small community situated around Clear Lake, have been called "fire survivors," as the Los Angeles Times pointed out, because they've been hit with at least three fires in the past year:
Last year's Rocky fire, which started about 9 miles east of Lower Lake and burned for two weeks in July and August, burned more than 100 square miles of forest and destroyed 43 homes. State fire investigators said that fire was sparked by a malfunctioning gas water heater.

The Jerusalem fire started a few days later, just south of the Rocky fire, and destroyed six homes. The fires briefly ran alongside each other.

The Valley fire — the third-most-destructive wildfire in state history — burned for more than a month in Lake, Napa and Sonoma counties, starting in September. The fire killed four people and destroyed 1,281 homes and 27 multifamily structures, according to state fire officials.
It's  not clear how authorities tied Pashilk to the Clayton fire, or to any other fires, except that that he had been under investigation for about a year.
The quick spread of the fire has also been blamed on five years of drought that has left plenty of dry brush to fuel the fires. Wildfires this year have burned more than 220,000 acres, and have been especially bad in the south of the state.