The Businessman Who's Paying the Fines From Burqini Bans
A French-Algerian man has covered the financial penalties of three women who defied a new rule in France— and he's offering to do the same for others.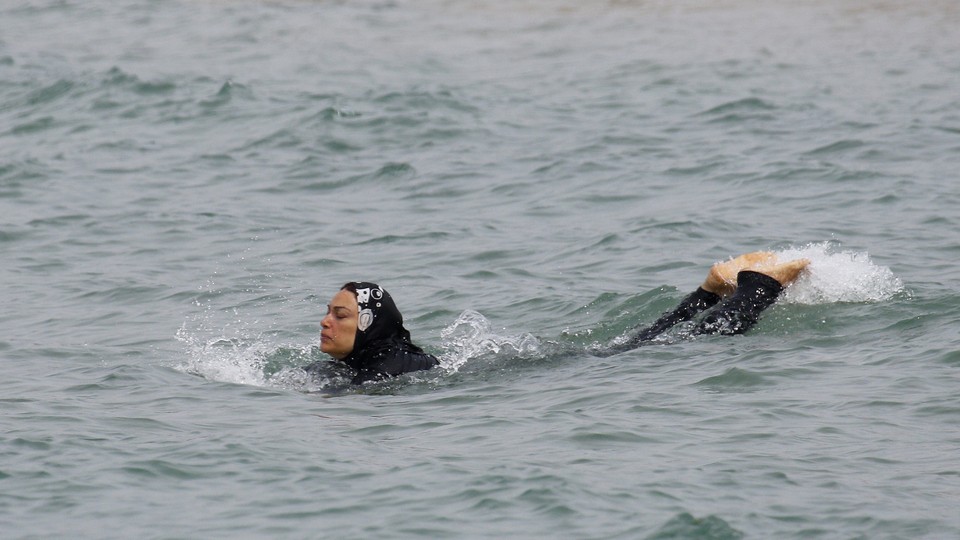 NEWS BRIEF French municipalities have begun issuing fines to those who defy a recently imposed Burqini ban, which prohibits people from wearing the swimwear favored by some Muslim women. In the coastal city of Cannes, one real-estate entrepreneur has stepped in to help.
Rachid Nekkaz, a Paris native of Algerian descent, has paid the fines issued to three women who wore the swimsuit despite the ban, which was imposed in several French municipalities last month, CNN reports. Nekkaz offered to pay the penalties because the decision to institute the ban on the controversial swimwear is "oppressive and unfair." He has pledged to do the same for more women.
Nekkaz has been a vocal opponent of France's laws restricting religious dress. After France passed the 2010 law known commonly as the Burqa Ban, which prohibited the wearing of face-covering headgear in public spaces, Nekkaz dedicated 1 million euros of his own money to pay the 150 euro fines levied against women who chose to wear the full-body veil.
"I'm in favour of a law to convict a husband who forces a women to wear the niqab and who forces her to stay at home," he told France 24 at the time. "But I am also for a law that lets these women move freely in the streets, because freedom of movement, just like any freedom, is the most fundamental thing to democracy."
The Burqini ban has been adopted in several municipalities since Cannes Mayor David Lisnard passed a bylaw last month banning the swimsuit from the city's beaches on the grounds that it is a "symbol of Islamic extremism." Since then, at least three women were fined 38 euros in Cannes, according to Le Parisien. Six others were told to leave the beach to avoid being fined.  
Religious dress has long been a source of contention in France, whose secular laws prohibit people from wearing conspicuous displays of religion—including headscarves, yarmulkes, and large crosses—in public spaces. Whether the Burqini qualifies as religious garb has prompted a nationwide debate.