The Latest Vote in Brazil's Impeachment Saga
The Senate voted 59-21 to indict President Dilma Rousseff, paving the way for her trial in the chamber.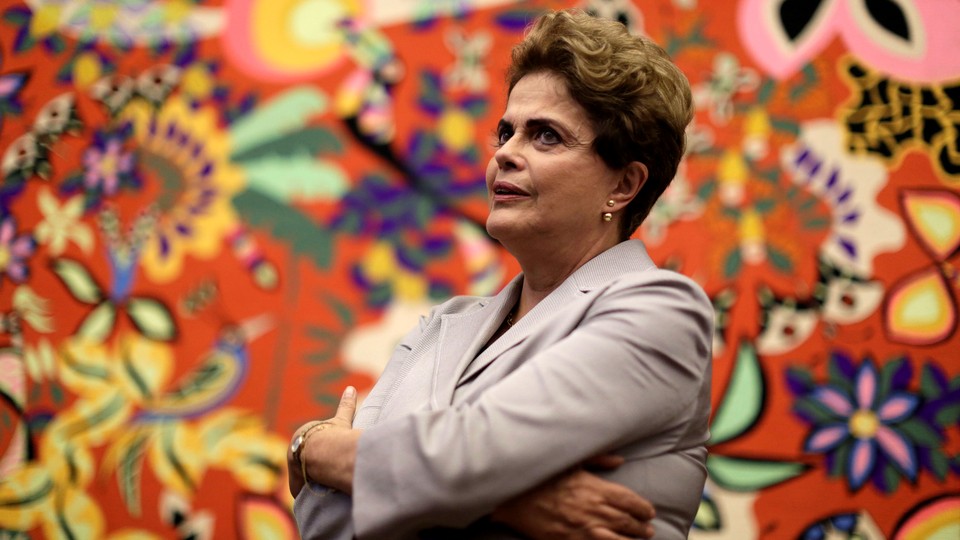 NEWS BRIEF Brazil's Senate voted Wednesday to indict President Dilma Rouseff over allegations she broke budget laws, paving the way for her trial in the chamber.
The Senate, after a 20-hour session, voted 59-21 to accept charges Rousseff manipulated budget figures ahead of her re-election in 2014. The lower house of Congress voted in April to start impeachment proceedings; the Senate followed suit in May. Rousseff has maintained her innocence, and called the allegations against her a political coup.
Two-thirds of the 81-member Senate must vote to impeach Rousseff at her trial. That comes to 54 votes, five fewer than the number of senators who voted to indict the president. If the vote, which is expected as early as this month, succeeds, Rousseff, who is suspended from office, will be removed permanently.
Reuters reports:
A conviction would definitively remove Rousseff from office, ending 13 years of leftist rule by her Workers Party, and confirm that interim President Michel Temer will serve out the rest of her term through 2018.

Rousseff's opponents needed only a simple majority in the 81-seat Senate to put her on trial for manipulating government accounts and spending without congressional approval, which they say helped her win re-election in 2014.
Rousseff, Brazil's first female president, is a former leftist guerrilla who focused much of her platform on helping the poor. Her supporters have said that if she did indeed move funds around, it's a common practice, and that many of the politicians accusing her are themselves under investigation for corruption, including interim President Michel Temer.