The End of Dilma Rousseff's Presidency
Senators have voted to remove Brazil's first female president from office nearly three months after her impeachment trial began.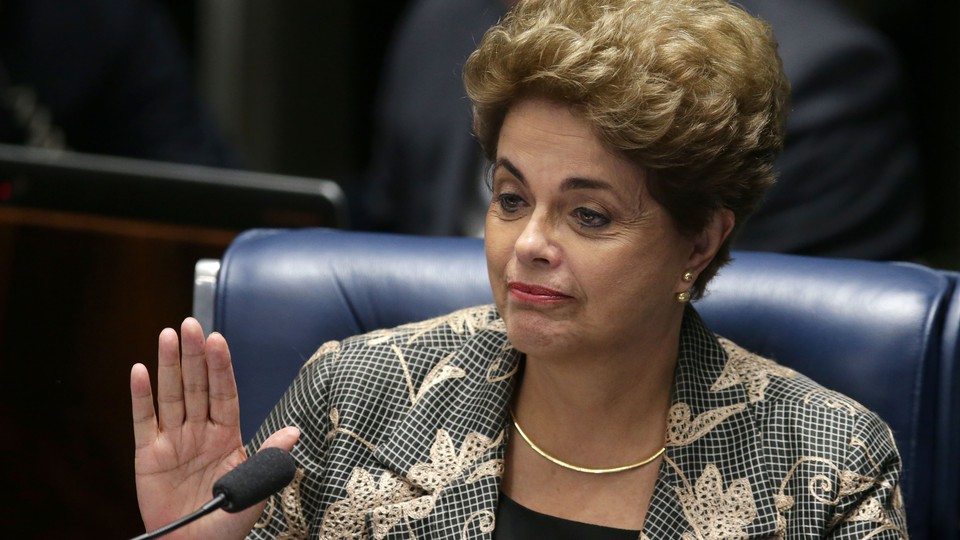 Updated on August 31 at 3:58 p.m.
NEWS BRIEF Brazilian senators voted Wednesday to impeach President Dilma Rousseff, removing her from power halfway through her second term.
The Senate voted 61 to 20 to impeach Rousseff, who was elected in 2010 as the country's first female president. Hours later, Michel Temer, the vice president and member of the centrist Brazilian Democratic Movement Party, was sworn in. Temer had served as interim president since legislators voted in May to begin an impeachment trial against Rousseff. He is expected to finish her term, which ends in 2018.
Rousseff has not been charged with any criminal offense, but she is accused of fudging the federal budget to hide the extent of Brazil's financial troubles while campaigning for her second term in 2014. But many of her accusers, including Temer, are embroiled in a far bigger corruption scandal, nicknamed Operation Car Wash—a scandal that has also embroiled key members of her Workers Party, including her mentor, former President Luiz Inácio Lula da Silva.
Impeachment brings with it a ban on running for public office for eight years, but senators have decided Rousseff will not be subject to that rule, according to news reports.
Public anger over the scandals resulted in massive nationwide protests against her government. Last year, lawmakers in Brazil's Congress introduced legislation to impeach Rousseff and remove her from office. In April, the Chamber of Deputies approved the measure. The Senate followed in May, suspending Rousseff. Wednesday's vote is the culmination of her trial in the Senate.
Rousseff, 68, delivered a rousing defense of her actions on Monday, telling senators: "Don't expect from me the obliging silence of cowards." She has maintained her innocence from the start of the proceedings against her and has called the action against her a coup. Sixty-six senators made their own speeches in a marathon overnight session that also included questions for the suspended president, as well as tears from those defending Rousseff and those voting to oust her.
Fifty-four of 81 senators were needed to reach the threshold for impeachment. The Associated Press reported Rousseff  had "promised that if that happens, she would let voters decide in a plebiscite whether they want early presidential elections." Rousseff could appeal her removal to Brazil's highest court, but the AP notes that previous appeals during the process have failed.