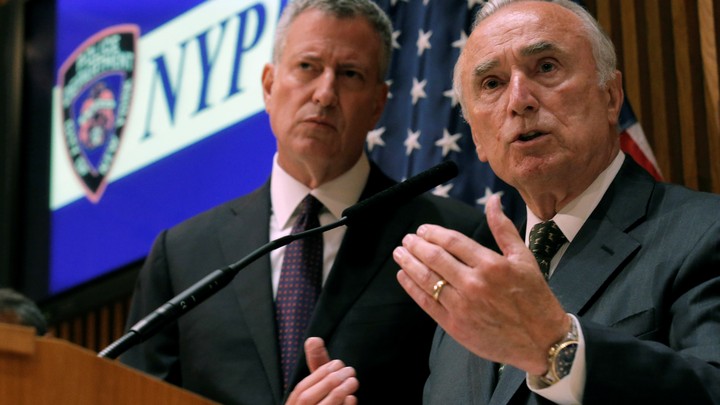 NEWS BRIEF New York City police commissioner Bill Bratton will resign in September after nearly three years on the job, Mayor de Blasio announced Tuesday afternoon.
"He is the architect of our neighborhood policing strategy," de Blasio told reporters at a news conference, with Bratton at this side.
Bratton will be replaced by James O'Neill, who has served as chief of the New York Police Department since 2014.
De Blasio appointed Bratton to the top police job in 2014. Bratton previously held the role from 1994 to 1996, during the Giuliani administration. He told reporters late last month that he would leave the job by the end of 2017.
Bratton said Tuesday he has worked to redefine the image of police officers in New York communities.
"When you see a policeman, remember that is your friend," he said. "That's the vision. … and that is happening, but it doesn't happen overnight."
New York City has seen a decrease in crime during Bratton's latest stint. But his recent tenure has coincided with high-profile police killings of black men in the city, like Eric Garner in 2014, and elsewhere in the United States that have prompted widespread protests against police brutality and fueled a resurgent national debate over policing and race relations. Bratton has drawn some criticism for racially charged comments, including his description in May of "so-called rap artists" as "thugs."
De Blasio said Tuesday he had developed "an intense bond" with Bratton in the last three years. The relationship between de Blasio and some police officers became strained in late 2014, when the mayor said he had to "literally train" his son Dante, who is biracial, how to interact with police officers. The remarks came after grand juries chose not to indict the officers involving in the killings of Garner and Michael Brown, a teenager in Missouri. The line angered many New York police officers, and thousands of them turned their backs in protest when de Blasio spoke during the funeral of a slain police officer in January 2015. Bratton defended the mayor, calling the officers' gesture "very inappropriate."
We want to hear what you think about this article. Submit a letter to the editor or write to letters@theatlantic.com.