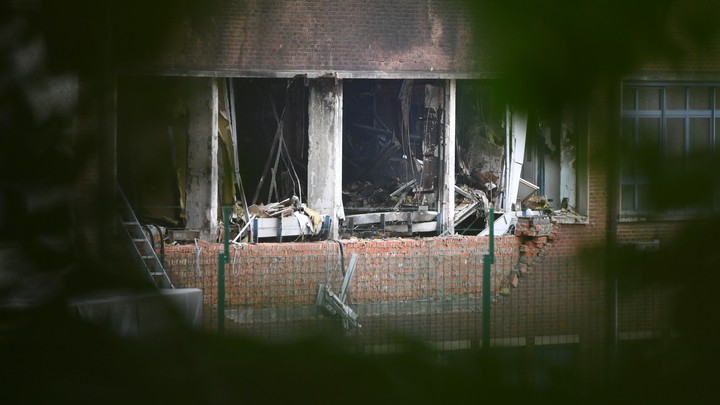 NEWS BRIEF Belgium's national forensics lab was set on fire early Monday morning, causing an explosion in the wing of the building where the evidence labs are located, reported Flanders News, the English-language news website of VRT, the Flemish public broadcaster. It said no one was injured and that five people were detained near the lab, but were later released.
Belgium has been on high alert since the deadly terrorist attacks in March, and the explosion was initially feared to be the work of militants. Authorities, however, said the attack was more likely linked to organized crime.
"It was arson, deliberate arson, at the laboratory of the federal police," prosecutor Ine Van Wymersch said, according to Reuters. "With a fire you get explosions, but it's not that explosives were thrown inside or installed."
She added: "We are thinking more of deliberate arson by organized crime. We have no indications that it was terrorism."
Van Wymersch said, according to The New York Times, the "damage to the building is severe." The newspaper added the "attack on the crime lab could hinder police and intelligence officials as they pursue suspects and monitor threats."
The breach is still under investigation, but it could prove embarrassing for Belgian security forces and intelligence agencies.
In March, 32 people were killed and hundreds more were injured when militants attacked Brussels' airport and one of its subway stations. ISIS claimed responsibility. As we wrote in the aftermath of the attacks, the failures of the Belgian intelligence agencies, seen as weak and ineffective compared with those of Britain and the United States, were blamed for the attacks.
Belgian authorities have been quick to downplay the possibility that the fire at the crime lab was linked to terrorism, and as the Times notes, "for now, the case is being handled as an arson investigation, so it is being dealt with by the Brussels prosecutor's office. If the case is deemed to involve terrorism, it may be transferred to the control of the federal prosecutor."
We want to hear what you think about this article. Submit a letter to the editor or write to letters@theatlantic.com.
Laura Wagner
is a reporter based in Washington, D.C. She has written for
Slate
and NPR.