Arianna Huffington's Goodbye
She said she's stepping down as the editor in chief of the eponymous website to focus on a new start-up.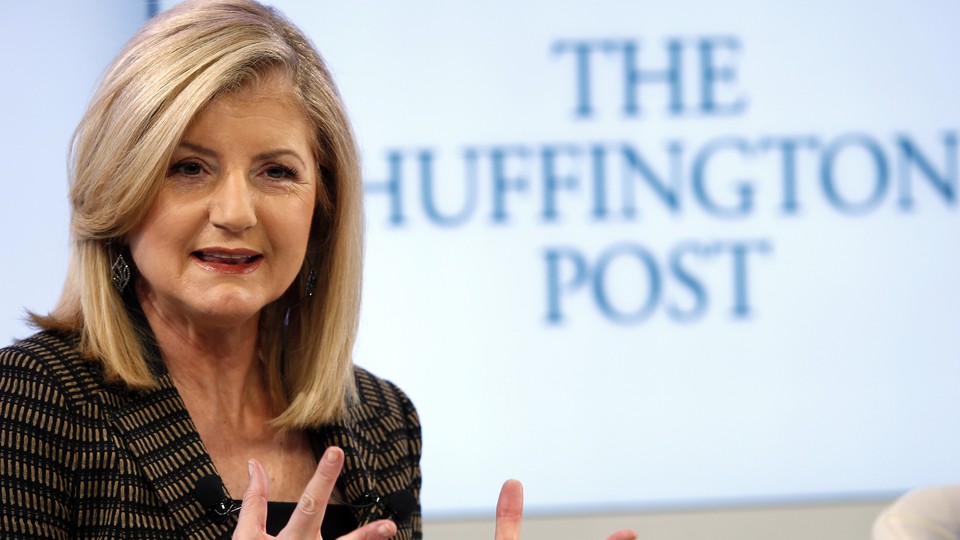 NEWS BRIEF Arianna Huffington, the founder and editor in chief of the Huffington Post, said Thursday she will step down as head of the company to switch her focus to her health and wellness start-up.
Huffington has written recent books about health and sleep issues, and her start-up, Thrive Global, was originally intended as an extension of her work in these areas, with a focus on improving employee health. She said she originally planned to balance her time overseeing both companies, but after she received funding to launch Thrive Global, she decided it would require all of her attention.
Huffington's role at the website she founded has been precarious since Verizon bought AOL, as The Wall Street Journal reported:
Her continued role at her namesake site—which was acquired by AOL Inc. in 2011 for $315 million—had become unclear after AOL was bought by Verizon Communications Inc. for $4.4 billion last year. The matter appeared put to rest when she signed the new contract, but her future with the site came into question again when she announced two months ago that she would be launching a new venture.
Huffington started the Post 11 years ago as a liberal counterpoint to the Drudge Report. The site now receives more than 100 million visitors each month, and has expanded outside of the U.S., into Mexico, France, and the U.K., among others. Her site was an early success in a changing media market, and was one of the early online-only media organizations to grow a massive audience. But the site has also run into controversy, most notably with the people who make its product—reporters and writers. The Post pushed the limits of aggregation, and sometimes refused to pay contributors, saying publication and the reach of their audience was compensation enough. This led to a court battle, which the Post won, and to a strike headed by the National Writers Union, which was later called off.
Huffington's new start-up, Thrive Global, will help companies improve the health and well-being of their employees through seminars and trainings.