The Capture of 'The Ghost,' a Criminal Legend of Miami's Cocaine Era
Anibal Mustelier is tied to a famous Florida bank heist, Colombian cartel murders in the 1980s, and even Cuban government assassinations.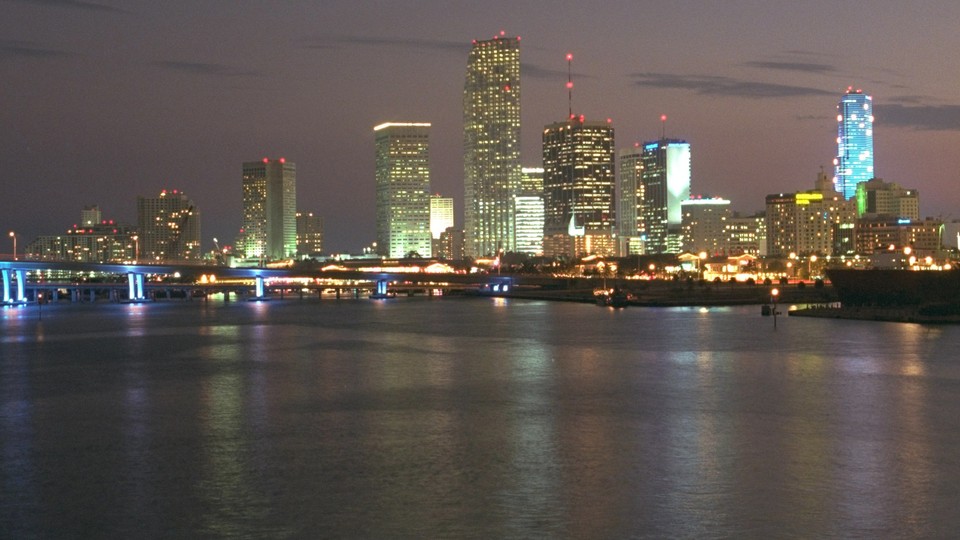 NEWS BRIEF During the years Pablo Escobar's Medellín Cartel flooded Miami with cocaine, authorities say Anibal Mustelier was one of the city's more deadly hitmen. In 1989, he allegedly machine-gunned a local businessman accused of taking money from the cartel. When that failed, he is said to have bombed the man's car.
Mustelier is now 66, and has spent the past 26 years hiding as a fugitive from the FBI, the U.S. Marshals Service, and authorities in several countries. It was that knack for evasion that earned him the nickname "The Ghost." He was so successful at hiding, in fact, that when officers in a Miami suburb caught a lead on a group of bank robbers earlier this month, they didn't even know whom they were chasing.
Mustelier was arrested over the weekend with little attention. It was only Tuesday that local media outlets published the news. Of the robbery that brought down him down, the Miami New Times reported that Mustelier and his crew had cut a hole in the roof of a nail salon adjacent to a jewelry store. They planned to tunnel through another wall once inside, but they had:
... accidentally drilled through a metal pipe with wires inside, shorting out the lights in the entire shopping center.

Around 8:50 a.m. the next morning, a witness says he saw a "suspicious male" standing outside the store acting as a lookout and heard unknown voices emanating from inside the jewelry store. Possibly realizing they'd been seen, the alleged robbers bolted, carrying large black duffel bags with them and shielding their eyes with their hands.
After the robbery, a confidential informant helped officers record conversations with some of the suspected robbers, one of whom, to their surprise, turned out to be Mustelier. On Sunday, police raided the aging criminal's home. Inside, they found jewelry, a bulletproof vest, gloves, a mask, and weapons.
Along with charges connected to the robbery, Mustelier has warrants out from an old bank robbery, and an attempted murder. Mustelier is believed to have masterminded one of South Florida's largest robberies, that of the SunTrust Bank in Miami in 1996. The heist allegedly earned Mustelier and his associates $5 million, and a starring role in an episode of America's Most Wanted.
Local police said Mustelier was at one time linked to former Cuban President Fidel Castro, working as an assassin for the government. He was believed to have hidden in Cuba for a long time, and possibly in Venezuela. In 2001 he was seen visiting family in the Miami area, but quickly vanished. Lately, Mustelier lived in a small, single-story home with his girlfriend.