The American Invasion of Canadian Waters
About 1,500 Americans taking part in an annual "Float Down" event inadvertently floated into international waters after strong winds blew them toward Canada.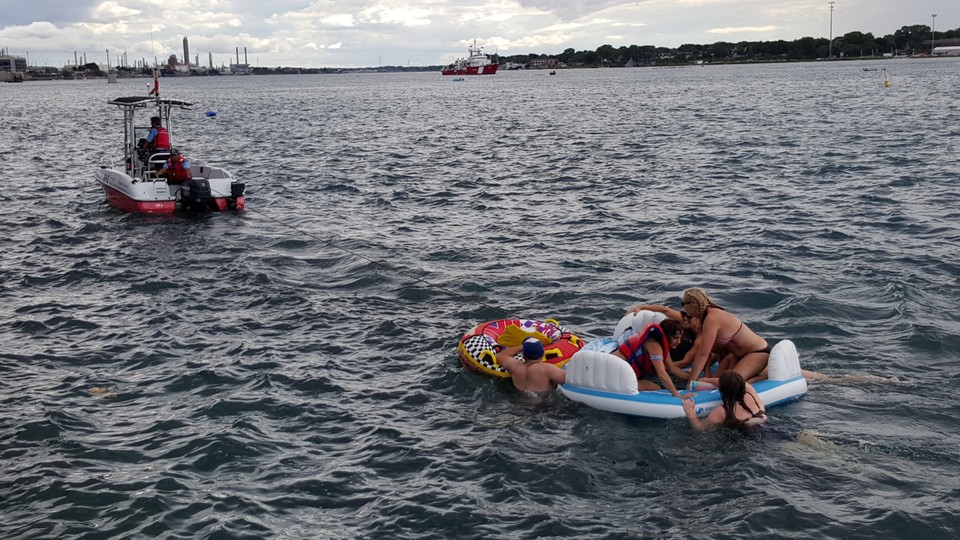 NEWS BRIEF An estimated 1,500 Americans aboard plastic rafts, inner tubes, and other flotation devices unknowingly floated to Canada after strong winds sent them into international waters, the CBC News reports.
The floaters began their journey Sunday at Lighthouse Beach in Port Huron, Michigan, as part of an annual "Float Down" event, in which thousands of attendees spent the day floating along the St. Clair River, a 40-mile long river which forms an international boundary between Michigan and Ontario. Though the event was only supposed to span eight miles down the river toward Michigan's Chrysler Beach, strong winds going as fast as 30 miles per hour blew the floaters toward an unexpected destination: Sarnia, Canada.
The Canadian Coast Guard, Sarnia police, and the Canada Border Service Agency quickly responded to the fleet of American floaters heading for Canadian shores. Peter Garapick, the head of the Canadian Coast Guard's search and rescue program, said many of the Americans, fearing the repercussions of entering Canada without proper documentation, attempted to swim back to the United States.
"We had to pull a lot of people out of the water and say 'no,'" Garapick told CBC News. "They were very upset, cold, and miserable."
The event, which was organized through Facebook, did not appear to be sponsored by a particular group.
Though all of the participants were eventually rescued from the water and sent back to the U.S. by bus later that evening, the Canadian responders were faced with an additional challenge of cleaning up what the American invasion left behind. Sarnia city spokeswoman Katarina Ovens said workers spent several hours cleaning up beer cans, coolers, and picnic tables the floaters brought with them.